Rare Vintage 1990 Dale Earnhardt Tee The Man Nascar
Introducing the iconic 1990 Dale Earnhardt Tee a testament to the legendary legacy of Dale Earnhardt, an American racing driver who has left an indelible mark on the world of NASCAR. In the realm of auto racing, Dale Earnhardt's name is synonymous with greatness, revered as one of the true titans of the sport.
The year 1990 marked a significant milestone in Dale Earnhardt's illustrious career. It was during this time that he solidified his status as a racing icon, earning the resounding moniker "The Man" from adoring fans and the NASCAR community alike. This title was more than just an honor; it was a reflection of his unparalleled achievements and the reverence he commanded in the racing world.
Adorning this vintage 1990 Dale Earnhardt Tee is a captivating portrayal of Dale Earnhardt's iconic car, bearing his signature number 3 and the words "Gotta Be." These elements epitomize the spirit of racing that Dale embodied the relentless pursuit of victory, the dedication to excellence, and the unyielding determination that made him a true legend.
This shirt captures the essence of Dale Earnhardt's era, a time when his unparalleled skills and charisma made him a racing deity. A must-have for any motorsports enthusiast, the 1990 Dale Earnhardt Tee encapsulates the profound impact he left on NASCAR and the lasting legacy of "The Man" himself.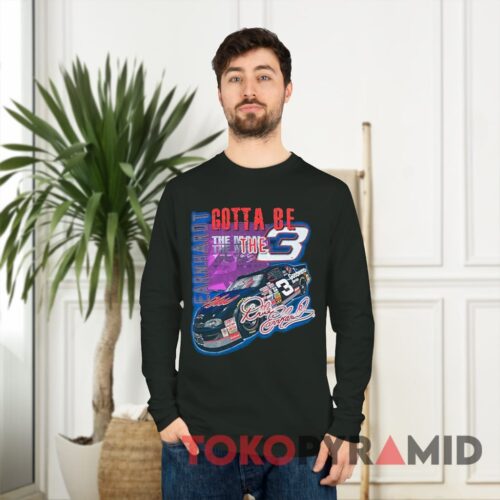 See more related products:
NASCAR
Have a look at the detailed information about Rare Vintage 1990 Dale Earnhardt Tee The Man Nascar below!
Material
100% Cotton
Color
Printed With Different Colors
Size
Various Size (From S to 5XL)
Style
Hoodies, Tank Tops, Youth Tees, Long Sleeve Tees, Sweatshirts, Unisex V-necks, T-shirts, and more...
Brand
TokoPyramid
Imported
From the United States
Care Instructions

Machine wash warm, inside out, with like colors.
Use only non-chlorine bleach.
Tumble dry medium.
Do not iron.
Do not dry-clean.
Source: https://tokopyramid.com