Vintage 1993 Buffalo Bills You Gotta Billieve T-shirt
Introducing the Vintage 1993 Buffalo Bills "You Gotta Billieve" T-shirt – a throwback masterpiece that captures the heart and spirit of Buffalo Bills fans during an unforgettable year in the franchise's history. This shirt is not just clothing; it's a passionate declaration of the unyielding belief and support that fans have for their team.
The design of this shirt showcases the iconic phrase, "Buffalo Bills You Gotta Billieve". It's a powerful and inspiring message that encapsulates the unwavering faith and determination that Bills fans have always held for their team. The typography used for the text is bold and spirited, much like the resilience of the team itself.
The vintage aesthetic of the design transports you back to 1993, a time when the Buffalo Bills were at the forefront of the NFL, and their fans were rallying behind them with unwavering enthusiasm. The classic team colors, emblem, and design elements create a visual masterpiece that symbolizes the enduring bond between the team and its dedicated fanbase.
Wearing this t-shirt is not just a fashion statement; it's a display of your allegiance and your belief in the Buffalo Bills. Whether you wear it to a game, a Bills-themed gathering, or just around town, this shirt allows you to proudly carry a piece of the team's history with you and share your unwavering "Billieve" spirit.
In summary, the Vintage 1993 Buffalo Bills "You Gotta Billieve" T-shirt is a beautifully designed piece that pays homage to a time when Bills fans came together to support their team with unshakable belief. By wearing this shirt, you're not just expressing your support for the Buffalo Bills; you're proudly showcasing your dedication and the deep-rooted bond you have with the team. Don't miss the opportunity to own this iconic piece of fan memorabilia and celebrate the enduring spirit of Buffalo Bills football.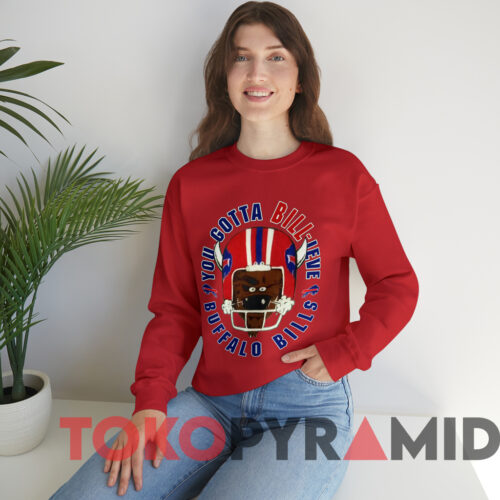 Vintage 1993 Buffalo Bills You Gotta Billieve T-shirt, Buffalo Bills, 1993, vintage, design, Billieve, passion, spirit, allegiance, iconic, fan support, unwavering, enthusiasm, resilient, classic, team colors, belief, NFL, memorable, history, dedicated fanbase, You Gotta Bill ieve, You Gotta Billieve Buffalo Bills.
Product Tags: 1993, Buffalo Bills, You Gotta Billieve
See more related products: Buffalo Bills
Have a look at the detailed information about Vintage 1993 Buffalo Bills You Gotta Billieve T-shirt below!
Material
100% Cotton
Color
Printed With Different Colors
Size
Various Size (From S to 5XL)
Style
Hoodies, Tank Tops, Youth Tees, Long Sleeve Tees, Sweatshirts, Unisex V-necks, T-shirts, and more...
Brand
TokoPyramid
Imported
From the United States
Care Instructions

Machine wash warm, inside out, with like colors.
Use only non-chlorine bleach.
Tumble dry medium.
Do not iron.
Do not dry-clean.
Source: https://tokopyramid.com