Vintage Nascar 2005 Rusty's Last Call Miller Lite T-shirt
Introducing the Vintage Nascar 2005 Rusty's Last Call Miller Lite T-shirt a remarkable piece of racing memorabilia that pays homage to one of NASCAR's most iconic figures, Rusty Wallace, and the unforgettable culmination of his illustrious career.
This Rusty's Last Call Penske Racing T-shirt is a wearable tribute to Rusty Wallace's incredible journey through the world of NASCAR. At its heart is the legendary #2 race car, adorned with the iconic Miller Lite sponsorship logo, emblematic of Rusty's partnership with one of the sport's most recognizable brands. It's a symbol of the high-speed artistry that Rusty brought to the racetrack.
A striking feature of the Nascar Vintage T-shirt is Rusty Wallace's smiling face, framed by his signature glasses. This image captures the essence of a racer who approached every race with a passion that transcended the checkered flag. Beside this portrait, the bold letters "RW 2" and the years 1984-2005 serve as a testament to Rusty's enduring presence and dominance in the NASCAR Cup Series for over two decades.
What truly sets this Nascar Rusty Wallace Rw 2 T-shirt apart is its background, meticulously constructed from images of fervent fans, forming a mosaic of passion and dedication. It's a visual representation of the NASCAR community that stood by Rusty throughout his illustrious career, cheering him on through every turn and victory lap.
The fluid curves of the "Rusty Wallace" lettering add a touch of elegance to the design, embodying the style and class that Rusty brought to both the racetrack and his fans. And finally, the logo "1984-2005 Rusty's Last Call Penske Racing" serves as a poignant reminder of Rusty's final farewell to professional racing, an event that marked the end of an era in NASCAR.
Wearing this Nascar Miller Lite T-shirt is like carrying a piece of racing history with you. It's a celebration of Rusty Wallace's legacy, a testament to his dedication, and a symbol of the passionate NASCAR community that supported him throughout his incredible career. Whether you're a die-hard fan of Rusty or simply appreciate the artistry of a well-designed shirt, this piece encapsulates the heart and soul of NASCAR and the indomitable spirit of Rusty Wallace.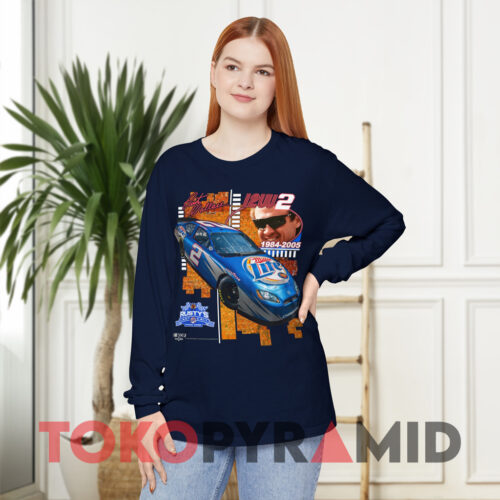 Product Tags: Miller Lite, Nascar 2005, Penske Racing, Rusty Wallace, Rusty's Last Call, Vintage Nascar
See more related products: NASCAR
Have a look at the detailed information about Vintage Nascar 2005 Rusty's Last Call Miller Lite T-shirt below!
Material
100% Cotton
Color
Printed With Different Colors
Size
Various Size (From S to 5XL)
Style
Hoodies, Tank Tops, Youth Tees, Long Sleeve Tees, Sweatshirts, Unisex V-necks, T-shirts, and more...
Brand
TokoPyramid
Imported
From the United States
Care Instructions

Machine wash warm, inside out, with like colors.
Use only non-chlorine bleach.
Tumble dry medium.
Do not iron.
Do not dry-clean.
Source: https://tokopyramid.com