Rare Vintage 90s Cincinnati Bearcats Logo Sweatshirt
The Rare Vintage 90s Cincinnati Bearcats Logo Sweatshirt is a true gem for fans of the Cincinnati Bearcats and collectors of nostalgic sports apparel. This sweatshirt showcases the iconic Cincinnati Bearcats logo from the 1990s in all its glory.
At the heart of the design is the striking Bearcat logo, featuring a bold, red paw print with a horizontal slash below it. Above the logo, you'll find the proud proclamation "CINCINNATI BEARCATS" in large, attention-grabbing letters. The combination of the classic logo and the university's name makes this sweatshirt a standout piece for fans of the Cincinnati Bearcats.
This sweatshirt is more than just a piece of clothing; it's a time machine that takes you back to the '90s, allowing you to relive the excitement and pride of supporting the Cincinnati Bearcats during that era. It's a must-have for alumni, students, or anyone who wants to show their love for the team in a retro and stylish way.
Whether you're attending a game, hitting the campus, or simply looking for a comfortable and unique sweatshirt, the Rare Vintage 90s Cincinnati Bearcats Logo Sweatshirt is a perfect choice. It's a piece of sports memorabilia and a fashion statement rolled into one, making it an excellent addition to your Cincinnati Bearcats collection. Don't miss the chance to own this nostalgic and iconic sweatshirt.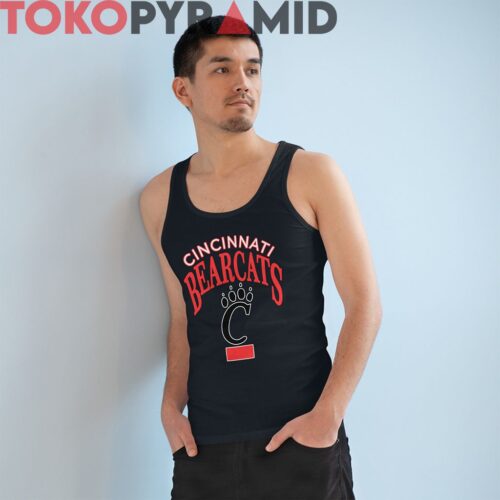 Cincinnati Bearcats, Rare Vintage Sweatshirt, 80s, 90s, Cincinnati Bearcats Shirt, Vintage College Apparel, Bearcats Fan Gear, Retro University Clothing, Nostalgic Sports Wear, Collectible UC Bearcats Sweatshirt, Old-School Cincinnati Merch, Throwback Bearcats Fashion, Classic College Logo, Vintage NCAA Apparel, Cincinnati Bearcats Collector's Item, Retro Style Sweatshirt, University of Cincinnati Memorabilia, 90s Bearcats Gear, Limited Edition UC Clothing, Vintage Cincinnati Sports, Bearcats Pride, Cincinnati Bearcats Nostalgia.
Cincinnati Bearcats Logo Sweatshirt, Cincinnati Bearcats vintage apparel, retro Cincinnati Bearcats clothing, 90s Cincinnati Bearcats gear, Cincinnati Bearcats collectibles, Cincinnati Bearcats fan fashion, nostalgic Cincinnati Bearcats sweatshirt, Cincinnati Bearcats pride, Bearcat logo sweater, Cincinnati Bearcats sports memorabilia.
Product Tags: Cincinnati Bearcats
See more related products: University of Cincinnati
Have a look at the detailed information about Rare Vintage 90s Cincinnati Bearcats Logo Sweatshirt below!
Material
100% Cotton
Color
Printed With Different Colors
Size
Various Size (From S to 5XL)
Style
Hoodies, Tank Tops, Youth Tees, Long Sleeve Tees, Sweatshirts, Unisex V-necks, T-shirts, and more...
Brand
TokoPyramid
Imported
From the United States
Care Instructions

Machine wash warm, inside out, with like colors.
Use only non-chlorine bleach.
Tumble dry medium.
Do not iron.
Do not dry-clean.
Source: https://tokopyramid.com