90s Grateful Dead Mickey Mouse It's a Dead World After All Rare Shirt
The 90s Vintage Grateful Dead Mickey Mouse Its A Dead World After All Rare Shirt is a unique and whimsical fusion of two iconic symbols: Mickey Mouse and the Grateful Dead. This extraordinary design captures the essence of the Grateful Dead's music and ethos while playfully incorporating the world-famous Disney character.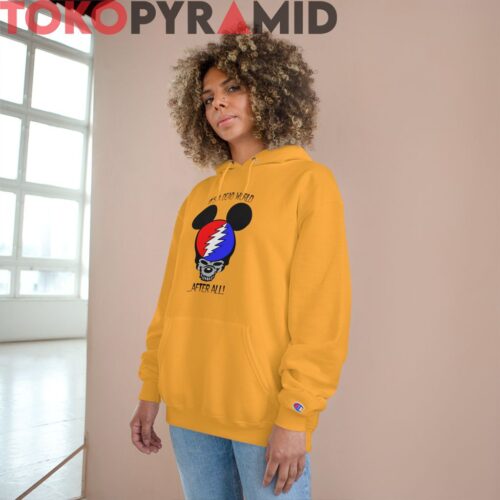 At the center of this Grateful Dead Mickey Mouse shirt is a skeletal Mickey Mouse, instantly recognizable by his round ears and cheerful grin, now transformed into a Grateful Dead classic. The familiar Mickey Mouse face has been reimagined with a skull, a nod to the band's association with the "Deadhead" community and their distinctive imagery. Perched on top of Mickey's skeletal head is the iconic Grateful Dead logo, connecting this beloved cartoon character to the band's music and culture.
Above and below this captivating image are the words "It's A Dead World After All", a clever twist on the familiar Disney refrain "It's A Small World After All". This alteration underscores the Grateful Dead's unique perspective on life, death, and the interconnectedness of all things, themes that run through their music and philosophy.
The Grateful Dead have long been associated with counterculture and a spirit of individuality, and this Grateful Dead Mickey Mouse shirt embodies that spirit by merging the playful innocence of Mickey Mouse with the subversive and thought-provoking imagery of the band. It's a shirt that invites conversation and contemplation, as it combines two worlds that, at first glance, might seem entirely different but, upon closer inspection, share a common thread of creativity, iconoclasm, and a commitment to pushing boundaries.
For fans of both the Grateful Dead and Disney, this Grateful Dead Mickey Mouse Its A Dead World After All shirt offers a unique opportunity to express their love for these two cultural touchstones simultaneously. It's a reminder that in the world of music and art, as in life itself, unexpected and delightful connections can be found in the most unlikely places.
Product Tags: 90s vintage, Grateful Dead, Mickey Mouse
See more related products: Grateful Dead
Have a look at the detailed information about 90s Grateful Dead Mickey Mouse It's a Dead World After All Rare Shirt below!
Material
100% Cotton
Color
Printed With Different Colors
Size
Various Size (From S to 5XL)
Style
Hoodies, Tank Tops, Youth Tees, Long Sleeve Tees, Sweatshirts, Unisex V-necks, T-shirts, and more...
Brand
TokoPyramid
Imported
From the United States
Care Instructions

Machine wash warm, inside out, with like colors.
Use only non-chlorine bleach.
Tumble dry medium.
Do not iron.
Do not dry-clean.
Source: https://tokopyramid.com