Christmas Is Among Us Imposter Sweatshirt
Introducing the Christmas Is Among Us Imposter Sweatshirt! This imaginative garment expertly merges the world of Among Us with the festive wonder of Christmas, creating a design that's visually captivating and filled with playful elements.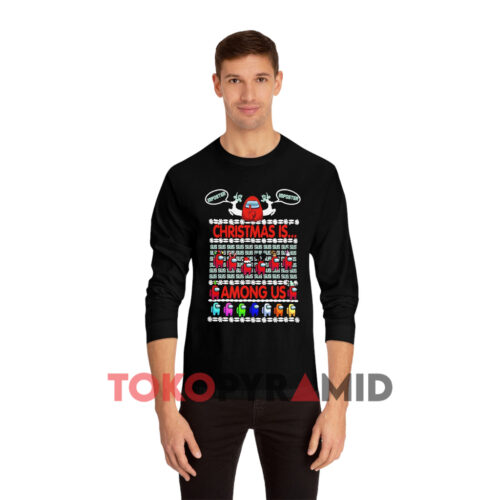 The Christmas Is Among Us Sweatshirt
showcases a well-balanced composition of various Among Us characters against the backdrop of the word "Sus". Above the characters, the phrase "Christmas Is" adds a festive touch, hinting at the excitement of the holiday season. Below, the words "Among Us" complete the picture, seamlessly fusing the joy of Christmas with the intrigue of the Among Us game.
The design also features additional details, including different Among Us crewmates, two reindeer, the word "Imposter", and various Christmas-themed decorations. These elements come together to create a harmonious and enchanting composition that invites you to explore the intricacies of the design.
This Christmas Is Among Us Sweatshirt is more than just clothing; it's a delightful celebration of both Christmas and the gaming culture. Whether you wear it to a holiday gathering, a game night with friends, or simply to showcase your festive spirit with a playful twist, the Christmas Is Among Us Imposter Sweatshirt is a unique and captivating addition to your holiday wardrobe. It's a design that perfectly captures the magic of Christmas while inviting you to engage in the mystery of the Among Us universe, all within a visually captivating design.
Christmas Is Among Us Imposter, Christmas Is Among Us Sweatshirt, Festive Among Us Crewmates Design, Impostor in Christmas Spirit, Unique Christmas Gamer's Wardrobe, Game-Themed Holiday Fashion, Christmas Party Conversation Starter, Playful Christmas Among Us Design, Impostor's Holiday Shenanigans, Whimsical Christmas Gaming Attire, Crew Celebrating Christmas, Intricate Christmas Sweater Design, Among Us Crewmates and Christmas Decorations, Christmas-Themed Among Us Imposter, Holiday Gathering in Among Us Style, Christmas Is Coming – Impostor's Deception, Christmas Cheer Meets Among Us, Christmas Fun with Among Us Crew.
Product Tags: Among Us, Christmas
See more related products: Among Us, Christmas
Have a look at the detailed information about Christmas Is Among Us Imposter Sweatshirt below!
Material
100% Cotton
Color
Printed With Different Colors
Size
Various Size (From S to 5XL)
Style
Hoodies, Tank Tops, Youth Tees, Long Sleeve Tees, Sweatshirts, Unisex V-necks, T-shirts, and more...
Brand
TokoPyramid
Imported
From the United States
Care Instructions

Machine wash warm, inside out, with like colors.
Use only non-chlorine bleach.
Tumble dry medium.
Do not iron.
Do not dry-clean.
Source: https://tokopyramid.com