Vintage Denver Broncos Logo NFL Football Shirt
Introducing the Vintage Denver Broncos Logo NFL Football Shirt, a classic piece of sports apparel that proudly showcases the emblem of the Denver Broncos. This Denver Broncos Logo Shirt features a design that encapsulates the enduring spirit of one of the NFL's iconic teams.
At the heart of the Vintage Denver Broncos Logo NFL Football Shirt, you'll find the distinguished Denver Broncos logo, which has been a symbol of the team's strength and excellence for years. Flanked by two stars on each side, the logo is framed in a diamond shape, adding a touch of elegance to the overall design.
Above the logo, the word "Denver" is proudly displayed, announcing the team's origin with bold lettering. Below, the word "Broncos" emphasizes the team's identity and legacy. This shirt represents a timeless and classic expression of support for the Denver Broncos.
Wearing this Denver Broncos Logo Shirt is a way to honor the rich history of the Denver Broncos and their enduring impact on the world of football. It's a testament to your allegiance to the team and your appreciation for the iconic team logo that has become a symbol of excellence and tradition. Whether you wear it to a game, a sports event, or as part of your everyday attire, this shirt is a timeless piece of fan gear that celebrates your pride as a Denver Broncos enthusiast.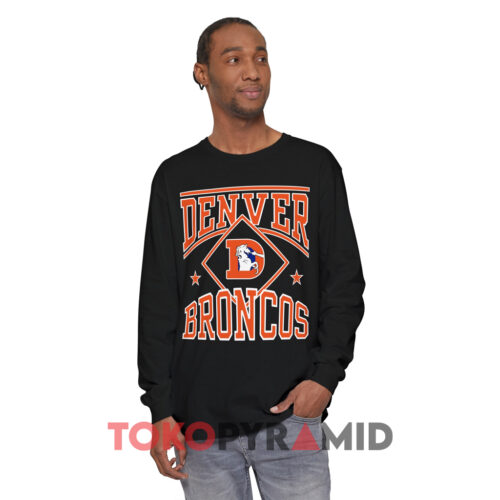 Vintage Denver Broncos Logo NFL Football Shirt, Denver Broncos fan apparel, Classic team emblem, Denver Broncos pride, Iconic team logo, NFL football fashion, Timeless sports design, Broncos logo shirt, Denver Broncos supporters, NFL fan gear, Retro sports apparel, Denver Broncos legacy, Football fan fashion, Team allegiance, Vintage NFL merchandise, Denver Broncos enthusiasts, Football tradition, Milestone team apparel.
Product Tags: Denver Broncos, NFL
See more related products: Denver Broncos
Have a look at the detailed information about Vintage Denver Broncos Logo NFL Football Shirt below!
Material
100% Cotton
Color
Printed With Different Colors
Size
Various Size (From S to 5XL)
Style
Hoodies, Tank Tops, Youth Tees, Long Sleeve Tees, Sweatshirts, Unisex V-necks, T-shirts, and more...
Brand
TokoPyramid
Imported
From the United States
Care Instructions

Machine wash warm, inside out, with like colors.
Use only non-chlorine bleach.
Tumble dry medium.
Do not iron.
Do not dry-clean.
Source: https://tokopyramid.com