Travis Barker Destroy Torment Annihilate Shirt
Introducing the Travis Barker Destroy Torment Annihilate Shirt, a garment that encapsulates the bold and unapologetic spirit of legendary drummer Travis Barker. This shirt is not merely an article of clothing; it's a statement, an embodiment of the intensity and raw energy that defines Barker's musical prowess.
The design is strikingly simple yet undeniably powerful, featuring the commanding phrase "Destroy Torment Annihilate" emblazoned across the shirt. These words resonate with the unbridled force of Barker's drumming, capturing the essence of his dynamic and relentless style.
The Travis Barker Destroy Torment Annihilate Shirt is a visual representation of the drummer's fearless approach to music and life. The choice of font and the boldness of the text mirror the intensity found in Barker's beats, creating a shirt that speaks volumes without uttering a single note.
Whether you're a fan of Travis Barker's rhythmic genius or simply admire the fusion of music and fashion, this shirt is a must-have. It's more than just clothing; it's a wearable testament to the annihilating beats and tormented rhythms that define Travis Barker's musical legacy. Destroy Torment Annihilate in style with this unique and impactful shirt.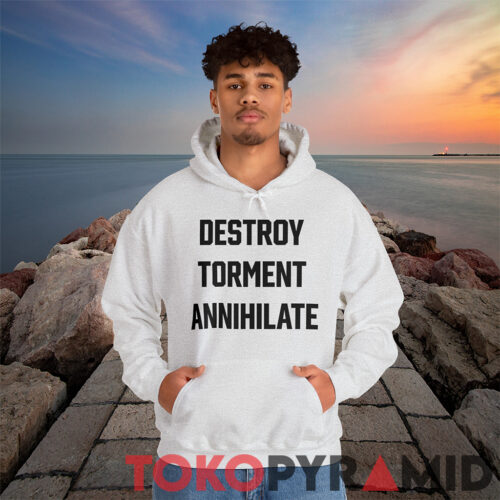 Destroy Torment Annihilate Shirt, Shirt Destroy Torment Annihilate, Travis Barker Apparel, Torment Annihilate Clothing, Barker's Intensity Tee, Drummer's Power Shirt, Travis Barker Style Top, Destroying Beats Apparel, Barker's Rhythmic Statement Tee, Tormented Rhythms Shirt, Annihilate in Style Clothing, Drumming Force Tee, Barker's Musical Legacy Shirt, Bold Torment Fashion, Destroying Limits Apparel, Annihilate the Silence Tee, Travis Barker Inspired Shirt, Tormenting Beats Clothing, Drumming Icon Fashion.
Product Tags: Annihilate, Destroy, Torment, Travis Barker
See more related products: Travis Barker
Have a look at the detailed information about Travis Barker Destroy Torment Annihilate Shirt below!
Material
100% Cotton
Color
Printed With Different Colors
Size
Various Size (From S to 5XL)
Style
Hoodies, Tank Tops, Youth Tees, Long Sleeve Tees, Sweatshirts, Unisex V-necks, T-shirts, and more...
Brand
TokoPyramid
Imported
From the United States
Care Instructions

Machine wash warm, inside out, with like colors.
Use only non-chlorine bleach.
Tumble dry medium.
Do not iron.
Do not dry-clean.
Source: https://tokopyramid.com