Rare Grinch Christmas Merry Grinchmas Eras Tour Shirt
Introducing the Rare Vintage Grinch Christmas Merry Grinchmas Eras Tour 2-Sided Shirt! This extraordinary shirt is a true collector's item for fans of the classic Christmas character, The Grinch.
Front Design: The front side of the shirt features a heartwarming scene with The Grinch himself, who has a soft side after all. He is depicted hugging a doll, with an adorable dog wearing a festive Noel hat by his side. Below this heartwarming image is a vibrant red frame that proudly displays the words "MERRY GRINCHMAS" in a playful and festive font. The text is surrounded by golden stars that add to the holiday cheer.
Back Design: Turn the shirt around, and you'll find a delightful collage of characters that resemble a family portrait. This quirky family includes a woman in a dress, a bearded man, a cute little baby, a girl carrying a large gift box, another child in baby clothes, a deer wearing a lucky shamrock hat, and, of course, The Grinch. Woven into this festive family portrait is the text "GRINCHMAS ERAS TOUR", adorned with multicolored string lights, capturing the essence of holiday spirit and celebration.
This 2-sided shirt is a unique blend of nostalgia, artistry, and holiday cheer. It's perfect for those who adore The Grinch and want to showcase their love for this timeless Christmas character. Whether you wear it during the holiday season or add it to your collection of Grinch memorabilia, this shirt is a remarkable find.
Don't miss the opportunity to own a piece of the Grinchmas Eras Tour with this rare vintage shirt. Get into the festive spirit and celebrate the holidays in style with this extraordinary piece of clothing that captures the magic and joy of Christmas.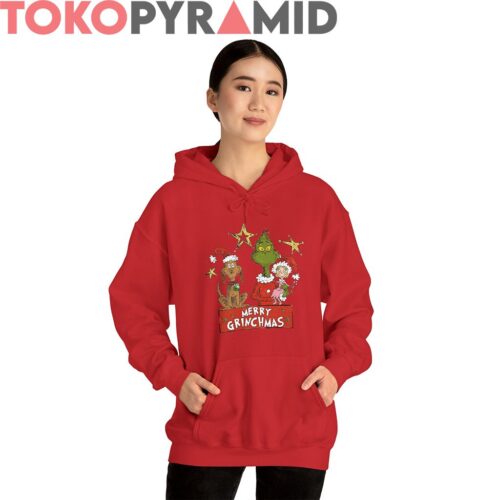 Grinchmas Christmas Vintage Shirt, Merry Grinchmas Apparel, Rare Vintage Eras Tour Tee, 2-Sided Grinch Design, Festive Grinch Costume, Classic Christmas Character Shirt, Grinch Lover's Apparel, Holiday Season Clothing, Vintage Merry Grinchmas Shirt, Dr. Seuss Christmas Attire, Retro Grinch Graphic Tee, Rare Christmas Collectible, Grinch-themed Clothing, Vintage Christmas Fashion, Grinch Fan's Outfit, Classic Cartoon Character Tee, Festive Grinch Movie Merch, Retro Holiday Clothing, Merry Grinchmas Souvenir Shirt, Grinchmas Eras Tour Collectible.
Product Tags: Christmas, Eras Tour, Grinch, Taylor Swift
See more related products: Christmas, How the Grinch Stole Christmas
Have a look at the detailed information about Rare Grinch Christmas Merry Grinchmas Eras Tour Shirt below!
Material
100% Cotton
Color
Printed With Different Colors
Size
Various Size (From S to 5XL)
Style
Hoodies, Tank Tops, Youth Tees, Long Sleeve Tees, Sweatshirts, Unisex V-necks, T-shirts, and more...
Brand
TokoPyramid
Imported
From the United States
Care Instructions

Machine wash warm, inside out, with like colors.
Use only non-chlorine bleach.
Tumble dry medium.
Do not iron.
Do not dry-clean.
Source: https://tokopyramid.com