Harley-Davidson Alamo City San Antonio Texas T-shirt
Introducing our Harley-Davidson Alamo City San Antonio Texas T-shirt – a true testament to the rich legacy and dynamic spirit of this vibrant Texan city. This shirt is a work of art in its design, encapsulating the essence of both San Antonio and the iconic Harley-Davidson brand.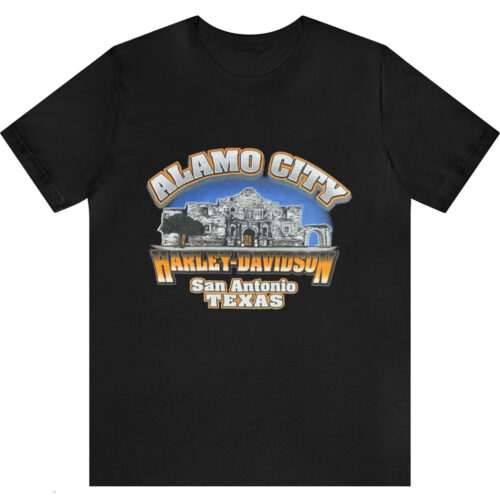 On the front, you'll find the striking emblem of Harley-Davidson Alamo City. This emblem pays homage to the legendary battle of the Alamo and the resilient spirit of the city of San Antonio. The intricate design and bold colors reflect the energy and dynamism of this Texas metropolis, making a bold and memorable statement that resonates with motorcycle enthusiasts and fans of inspired design alike.
Our Harley-Davidson Alamo City San Antonio Texas T-shirt is more than just an article of clothing; it's a symbol of pride for the city and a tribute to the indomitable spirit of Harley-Davidson. Whether you're a dedicated rider or simply appreciate the allure of San Antonio's vibrant culture, this shirt is a must-have addition to your wardrobe. It's a statement of Texas pride, a celebration of history, and a connection to the heart of Alamo City. Wear it proudly and become part of the dynamic story that is San Antonio, Texas.
Harley Davidson, Alamo City, San Antonio, Texas, T-shirt, emblem, design, vibrant, legacy, culture, iconic, history, motorcycle enthusiasts, dynamic, tribute, pride, River Walk, Texan spirit. Harley Davidson Alamo City, Alamo City Harley Davidson, Harley Davidson San Antonio Texas.
Product Tags: Alamo City, Harley-Davidson, San Antonio
See more related products: Harley-Davidson
Have a look at the detailed information about Harley-Davidson Alamo City San Antonio Texas T-shirt below!
Material
100% Cotton
Color
Printed With Different Colors
Size
Various Size (From S to 5XL)
Style
Hoodies, Tank Tops, Youth Tees, Long Sleeve Tees, Sweatshirts, Unisex V-necks, T-shirts, and more...
Brand
TokoPyramid
Imported
From the United States
Care Instructions

Machine wash warm, inside out, with like colors.
Use only non-chlorine bleach.
Tumble dry medium.
Do not iron.
Do not dry-clean.
Source: https://tokopyramid.com