Chicago Bulls High Five 1997 NBA Finals Shirt
Introducing the Chicago Bulls High Five 1997 NBA Finals Shirt, a visually stunning tribute to the Bulls' triumphant moments during the 1997 NBA Finals. This Chicago Bulls High Five 1997 NBA Finals shirt encapsulates the electric energy and celebratory spirit of that championship year, highlighting the iconic "High Five" gesture that became synonymous with the team's success.
At the forefront of the design is a bold illustration featuring a bull extending a hand with a triumphant high-five gesture, adorned with a championship ring. This emblematic image is set against a backdrop of towering skyscrapers, representing the urban landscape of Chicago. Above, the text "Chicago High Five" and the NBA Finals 1997 logo celebrate the specific moment in Bulls history, capturing the essence of victory and camaraderie.
Beneath this captivating scene, the phrase "NBA Champions 1991-1992-1993-1996-1997" proudly declares the Bulls' championship legacy during the mentioned years, creating a sense of continuity and excellence.
The Chicago Bulls High Five 1997 NBA Finals Shirt is not just apparel; it's a wearable tribute to a defining moment in sports history. With its vibrant design and commemorative elements, this shirt invites fans to relive the thrill of victory and showcase their pride in the Bulls' remarkable achievements during the 1997 NBA Finals.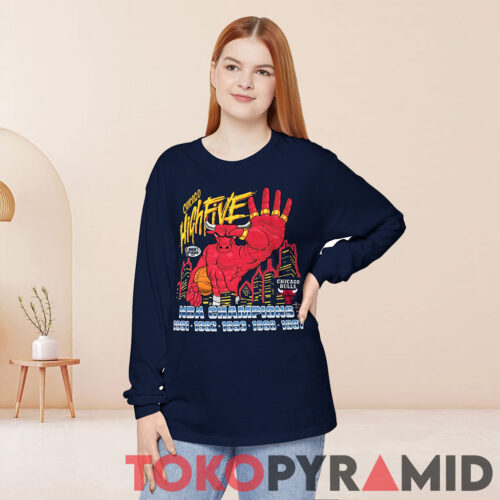 Chicago Bulls Shirt, Shirt Chicago Bulls, High Five 1997 NBA Finals Tee, Bulls Championship Fashion, NBA Finals Commemorative Tee, Chicago Bulls Celebratory Apparel, Basketball Triumph Legacy Shirt, High Five Bulls Legacy Tee, 1997 NBA Victory Fashion, Bulls Historic Era Shirt, Chicago Bulls '97 Championship Tee, Basketball Glory Narrative Shirt, Chicago Bulls High Five Retro Tee, '90s Bulls Championship Legacy Shirt, Iconic Chicago Bulls Emblematic Tee, 1997 NBA Finals Commemoration Shirt, Bulls Glory Days Apparel, High Five Championship Retro Bulls Tee, NBA Finals 1997 Bulls Iconic Shirt, Chicago Bulls High Five 1997 NBA, Chicago Bulls 1997 NBA Finals,
Product Tags: 1997 NBA Finals, Chicago Bulls
See more related products: Chicago Bulls
Have a look at the detailed information about Chicago Bulls High Five 1997 NBA Finals Shirt below!
Material
100% Cotton
Color
Printed With Different Colors
Size
Various Size (From S to 5XL)
Style
Hoodies, Tank Tops, Youth Tees, Long Sleeve Tees, Sweatshirts, Unisex V-necks, T-shirts, and more...
Brand
TokoPyramid
Imported
From the United States
Care Instructions

Machine wash warm, inside out, with like colors.
Use only non-chlorine bleach.
Tumble dry medium.
Do not iron.
Do not dry-clean.
Source: https://tokopyramid.com