Impostor Among Game Us Christmas Sweatshirt
Introducing the Impostor Among Game Us Christmas Sweatshirt, a whimsical and festive garment that fuses the world of Among Us with the holiday spirit. This Santa Claus Is An Impostor Sweatshirt features two iconic Among Us crewmates in a playful yet mischievous showdown. The red Among Us character, donned in a Santa hat, adds a dash of Christmas flair, while the green Among Us crewmate faces an unfortunate end at the hands of the impostor.
To complete the holiday theme, a brightly decorated Christmas tree stands tall beside the crewmates, exuding a warm and festive glow. The word "Impostor" prominently displayed adds a hint of intrigue, reminding us of the game's central theme of deceit and deception.
This Among Us Christmas Sweatshirt is a delightful fusion of gaming and Christmas cheer, bringing a smile to the faces of gamers and holiday enthusiasts alike. The juxtaposition of holiday traditions and the unpredictable world of Among Us creates a unique and visually engaging concept that is perfect for celebrating the season. It's more than just a sweatshirt; it's a wearable piece of fun and festivity that captures the spirit of both worlds.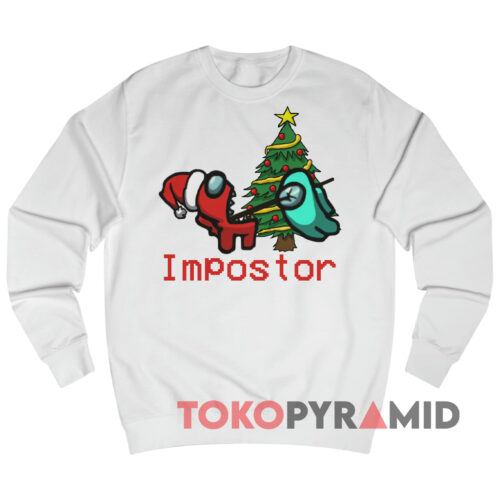 Impostor Among Game Us Christmas, Santa Claus Is An Impostor, Among Us Christmas Sweatshirt, Among Us Christmas, Festive Among Us crewmates, Santa hat impostor showdown, Christmas-themed gaming apparel, Among Us Santa Claus design, Impostor rivalry for the holidays, Santa Claus impostor in Among Us, Ugly Christmas sweater vibes, Gaming-themed holiday clothing, Crewmates' Christmas battle, Santa Claus impostor humor, Christmas tree in Among Us, Gaming and Christmas fusion, Festive impostor design, Santa hat impostor crewmate, Holiday-themed Among Us characters, Ugly Christmas sweater party attire, Impostors in Christmas outfits, Gaming holiday humor, Santa impostor among crew, Crewmates' Christmas celebration, Among Us holiday surprise, Santa's impostor strategy, Impostor crewmate Christmas fashion, Santa-themed gaming attire, Christmas joy in Among Us, Impostor impostor showdown.
Product Tags: Among Us, Christmas
See more related products: Among Us, Christmas
Have a look at the detailed information about Impostor Among Game Us Christmas Sweatshirt below!
Material
100% Cotton
Color
Printed With Different Colors
Size
Various Size (From S to 5XL)
Style
Hoodies, Tank Tops, Youth Tees, Long Sleeve Tees, Sweatshirts, Unisex V-necks, T-shirts, and more...
Brand
TokoPyramid
Imported
From the United States
Care Instructions

Machine wash warm, inside out, with like colors.
Use only non-chlorine bleach.
Tumble dry medium.
Do not iron.
Do not dry-clean.
Source: https://tokopyramid.com