Impostor Among Us Ugly Christmas Shhh Sweatshirt
Introducing the Impostor Among Us Ugly Christmas Shhh Sweatshirt! This unique garment seamlessly fuses the iconic imagery of Among Us with the festive charm of Christmas. At its core is an intriguing design that captures the essence of both worlds.
The centerpiece of the Impostor Among Us Shhh Christmas Sweatshirt features an Among Us character, the game's iconic crewmate, gesturing the universal "shh" sign, invoking the feeling of quiet mystery. This silent message is accompanied by the words "Impostor" above and "Among Us" below, showcasing the central theme of the game where players must constantly question their fellow crewmates' loyalty and remain vigilant.
To embrace the holiday season, the design incorporates various Christmas-themed accents, such as twinkling lights, snowflakes, and other festive decorations. These elements lend a cozy and whimsical touch to the overall aesthetic, blending the excitement of Christmas with the intrigue of the Impostor.
This Among Us Silence Shhh Sweatshirt is not just clothing; it's a captivating conversation starter and a perfect representation of the gaming culture within the holiday context. Whether you wear it to a festive gathering, a gaming event, or simply as a fun and unique addition to your Christmas wardrobe, the Impostor Among Us Ugly Christmas Shhh Sweatshirt is the perfect choice for those who love the game and want to celebrate the season with a playful twist. It's a striking and thought-provoking design that brings the world of Among Us into the heart of the holiday festivities.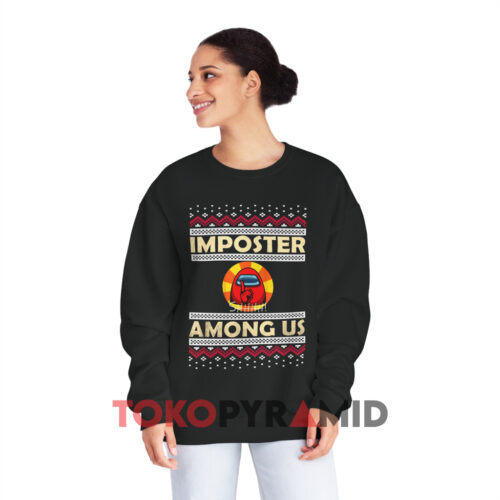 Impostor Among Us Ugly Christmas Shhh, Impostor Among Us Shhh Christmas, Among Us Silence Shhh, Festive Gaming Sweatshirt, Intriguing Impostor Design, Among Us Holiday Attire, Gaming and Christmas Fusion, Silent Impostor Sign, Ugly Christmas Sweater Style, Whimsical Christmas Impostor, Impostor's Secret Gesture, Christmas Gaming Fashion, Unique Ugly Christmas Apparel, Holiday Party Conversation Starter, Cozy Holiday Sweatshirt, Impostor Mystery and Cheer, Christmas Gamer's Wardrobe, Festive Impostor Among Us, Gaming Crewmate Shhh, Impostor Christmas Theme.
Product Tags: Christmas, Impostor Among Us
See more related products: Among Us, Christmas
Have a look at the detailed information about Impostor Among Us Ugly Christmas Shhh Sweatshirt below!
Material
100% Cotton
Color
Printed With Different Colors
Size
Various Size (From S to 5XL)
Style
Hoodies, Tank Tops, Youth Tees, Long Sleeve Tees, Sweatshirts, Unisex V-necks, T-shirts, and more...
Brand
TokoPyramid
Imported
From the United States
Care Instructions

Machine wash warm, inside out, with like colors.
Use only non-chlorine bleach.
Tumble dry medium.
Do not iron.
Do not dry-clean.
Source: https://tokopyramid.com