In My Grinchmas Eras Grinch Christmas Ugly Sweatshirt
The "Rare Vintage In My Grinchmas Eras Grinch Christmas Ugly Sweatshirt" is a truly one-of-a-kind addition to your holiday wardrobe. This sweatshirt boasts an intentionally "ugly" design that captures the whimsy and nostalgia of the festive season.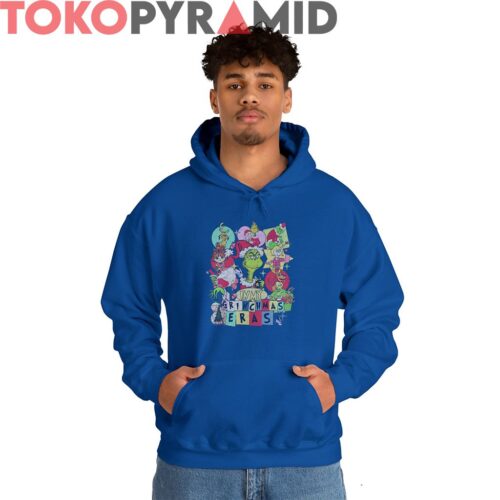 At the heart of this unique sweatshirt, you'll find a jubilant Grinch, the beloved character from Dr. Seuss's timeless classic, "How the Grinch Stole Christmas". The Grinch takes center stage, depicted with a joyful expression, adding a touch of playfulness to the garment. His presence serves as the very essence of "In My Grinchmas Eras Grinch Christmas".
Surrounding the Grinch are a delightful ensemble of beloved Christmas characters, each contributing to the sense of holiday cheer. A festively adorned dog, complete with a Santa hat, represents the loyal and cherished companionship that the season brings. A baby clutching a Christmas ornament embodies the innocence and wonder that holiday moments are made of. A young girl embracing a beautifully wrapped gift is a reminder of the joy of giving and receiving during this special time of year. And, of course, a whimsical reindeer, symbolizing the enchantment and magic of Christmas, completes this enchanting tableau.
At the bottom of the sweatshirt, the words "IN MY GRINCHMAS ERAS" are boldly displayed in various vibrant colors, ensuring that the spirit of "In My Grinchmas Eras" is front and center. This distinct blend of holiday elements and whimsical design creates a nostalgic and unique piece that pays homage to the classic story's enduring charm.
Wearing this sweatshirt allows you to carry the magic of "In My Grinchmas Eras Grinch Christmas" with you throughout the holiday season. It's the perfect choice for those who hold a special place in their hearts for the timeless tale and its enduring message of love, kindness, and the joy of the season. Embrace the holiday spirit with this remarkable and rare vintage sweatshirt, ensuring you'll stand out in style during the festive season.
Grinch Christmas Sweatshirt, Vintage Grinch Ugly Sweater, Ugly Christmas Grinchmas Sweatshirt, In My Grinch Christmas Era Shirt, Rare Christmas Grinch Sweatshirt, Grinchmas Eras Ugly Sweater, Era Grinch Christmas Ugly Shirt, In My Grinchmas Ugly Christmas Sweatshirt, Vintage Grinchmas Era Sweatshirt, Grinch Xmas Ugly Jumper, Retro Grinch Sweater In My Era, Rare Grinchmas Christmas Ugly Shirt, In My Vintage Grinch Sweatshirt, Grinchmas Era Ugly Xmas Jumper, Ugly Sweatshirt Grinch Era, In My Grinch Christmas Era Sweater, Christmas Ugly Grinchmas Era Shirt, Vintage Grinch Sweatshirt In My Eras, Rare Ugly Grinch Christmas Sweater, Grinchmas Era Shirt In My Christmas Ugly Sweatshirt.
Product Tags: Christmas, Eras Tour, Grinch, Taylor Swift, Ugly
See more related products: Christmas, How the Grinch Stole Christmas
Have a look at the detailed information about In My Grinchmas Eras Grinch Christmas Ugly Sweatshirt below!
Material
100% Cotton
Color
Printed With Different Colors
Size
Various Size (From S to 5XL)
Style
Hoodies, Tank Tops, Youth Tees, Long Sleeve Tees, Sweatshirts, Unisex V-necks, T-shirts, and more...
Brand
TokoPyramid
Imported
From the United States
Care Instructions

Machine wash warm, inside out, with like colors.
Use only non-chlorine bleach.
Tumble dry medium.
Do not iron.
Do not dry-clean.
Source: https://tokopyramid.com