Jack-O-Nade Shirt Double-sided
Introducing the Jack-O-Nade Shirt, a garment that stands as a testament to the fusion of Halloween's spine-chilling spirit and the unmistakable charm of Grunt Style's distinctive designs.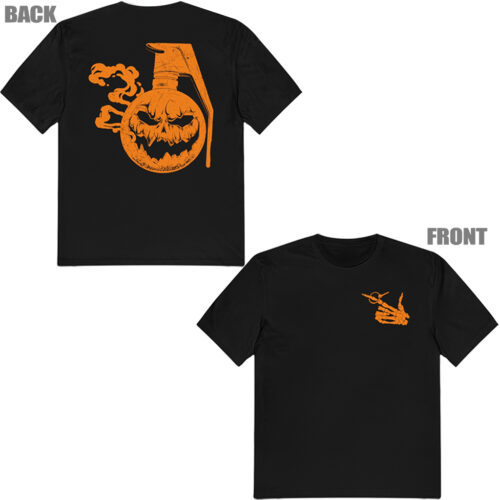 On the front of this shirt, you'll encounter a striking image that immediately captures the essence of this unique piece. The skeletal hand, with its eerie, bony fingers, cradles a grenade with an ominous air. It's an image that sends shivers down your spine, seamlessly blending the macabre with an unmistakable military edge. This side of the shirt sets the stage for a visual experience that is both haunting and powerful.
However, when you turn to the back, you're met with a startling transformation. The grenade, once a symbol of destruction, has morphed into something far more sinister. Carved into its surface is an unsettling grin, reminiscent of the malevolent Jack-O-Lanterns that haunt the night during Halloween. The juxtaposition of the terrifyingly grinning bomb is a masterstroke, as it adds a layer of dark humor to the shirt's design, making it both intriguing and unsettling.
What sets the Jack-O-Nade Shirt apart is its dual-sided narrative. It embodies the duality of Halloween a night when the boundary between the living and the dead blurs, and the frightening and the comical converge. This shirt is a visual representation of that merging, as it seamlessly blends the sinister with the darkly amusing.
In essence, the Jack-O-Nade Shirt is more than just clothing; it's a wearable piece of art that defies convention. It's a conversation starter, a symbol of the unique creativity that Grunt Style brings to the world of fashion. This Jack-O-Nade Halloween Shirt allows you to express your love for Halloween, your appreciation for the unexpected, and your affinity for the unconventional, all through its captivating design.
With the Jack-O-Nade Shirt Double Sided, you're not just wearing a shirt; you're donning a statement piece that beautifully encapsulates the essence of Halloween's enigmatic allure and Grunt Style's commitment to pushing the boundaries of fashion. It's a shirt that will undoubtedly turn heads, spark conversations, and leave a lasting impression wherever you go.
Product Tags: Halloween, Jack O Nade
See more related products: Halloween
Have a look at the detailed information about Jack-O-Nade Shirt Double-sided below!
Material
100% Cotton
Color
Printed With Different Colors
Size
Various Size (From S to 5XL)
Style
Hoodies, Tank Tops, Youth Tees, Long Sleeve Tees, Sweatshirts, Unisex V-necks, T-shirts, and more...
Brand
TokoPyramid
Imported
From the United States
Care Instructions

Machine wash warm, inside out, with like colors.
Use only non-chlorine bleach.
Tumble dry medium.
Do not iron.
Do not dry-clean.
Source: https://tokopyramid.com