Jay Z Simpson Unisex T-Shirt
Introducing the Jay Z Simpson Unisex T-Shirt, a captivating fusion of two cultural icons that seamlessly brings together the legendary Jay Z and the beloved characters from The Simpsons. This shirt is a testament to creativity and pop culture, offering a visually striking and thought-provoking design that stands out in any crowd.
The graphic on the shirt skillfully combines the unmistakable features of Jay Z with the iconic aesthetic of The Simpsons, creating a harmonious blend that is both witty and visually intriguing. From Jay-Z's distinctive style to the animated charm of The Simpsons characters, this design captures the essence of both worlds playfully and uniquely.
The Jay Z Simpson Unisex T-Shirt is not just an article of clothing; it's a conversation starter and a celebration of the crossroads where music and animation meet. Whether you're a fan of hip-hop, The Simpsons, or both, this shirt allows you to showcase your appreciation for these cultural influences with a touch of humor and artistic flair.
Wearable art that goes beyond fashion, this T-shirt is perfect for expressing your individuality and love for pop culture. Whether you're attending a concert, hanging out with friends, or simply making a statement, the Jay Z Simpson Unisex T-Shirt is the ideal choice for those who appreciate the art of blending genres and breaking creative boundaries. Step into a world where music meets animation and make a statement with this truly unique piece.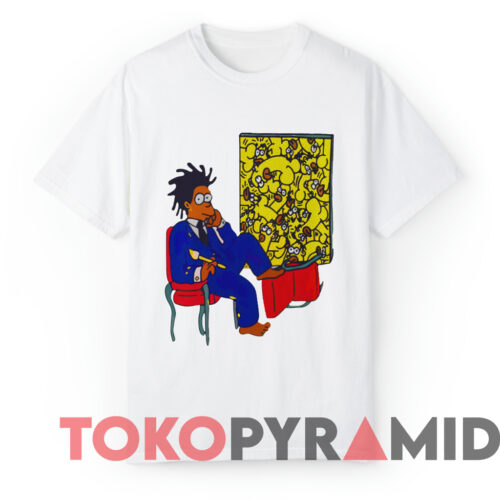 Jay Z Simpson Unisex T-Shirt, unique design, pop culture fusion, Jay Z and The Simpsons collaboration, creative graphic tee, music meets animation, iconic characters on shirt, Jay Z style with Simpsons twist, witty and visually intriguing, cultural crossover fashion, conversation starter shirt, artistic flair in clothing, playful and thought-provoking design, celebration of two cultural icons, hip-hop meets animation, wearable art, statement-making tee, distinctive and humorous fashion, cross-genre appreciation, cultural influence showcase, music and animation blend, individuality in clothing, breaking creative boundaries, concert-ready shirt, artistic expression in fashion, Jay Z, Simpson, Simpson Jay Z, Jay Z The Simpson, Basquiat Simpsons.
Product Tags: Jay Z, The Simpsons
See more related products: Jay Z, The Simpsons
Have a look at the detailed information about Jay Z Simpson Unisex T-Shirt below!
Material
100% Cotton
Color
Printed With Different Colors
Size
Various Size (From S to 5XL)
Style
Hoodies, Tank Tops, Youth Tees, Long Sleeve Tees, Sweatshirts, Unisex V-necks, T-shirts, and more...
Brand
TokoPyramid
Imported
From the United States
Care Instructions

Machine wash warm, inside out, with like colors.
Use only non-chlorine bleach.
Tumble dry medium.
Do not iron.
Do not dry-clean.
Source: https://tokopyramid.com