Kamala Harris 50 Years Of Hip Hop Shirt The Ultimate American Art Form
The "Kamala Harris 50 Years Of Hip Hop Shirt" is a remarkable testament to the cultural significance of hip-hop in the United States. This shirt captures a momentous event hosted by Vice President Kamala Harris on September 9th, where she celebrated the 50th anniversary of hip-hop alongside some of its pioneers and stars.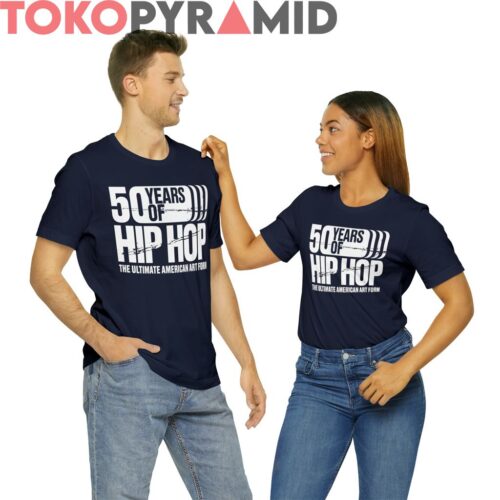 Hip-Hop's Milestone: At the heart of the shirt's design is the bold statement "50 YEARS OF HIP-HOP." This phrase encapsulates the rich history and enduring impact of hip-hop as a musical genre and cultural phenomenon. It serves as a tribute to the genre's evolution since its inception in the early 1970s.
A Celebration with Icons: The Kamala Harris 50 Years Of Hip Hop Shirt pays homage to the artists who have shaped hip-hop. Common, Jeezy, MC Lyte, and Roxanne Shante, among others, were part of the celebration. Their contributions to hip-hop have been pivotal, and their presence at this event underscores the genre's cultural importance.
The Ultimate American Art Form: Below the anniversary proclamation, the Kamala Harris 50 Years Of Hip Hop Shirt features the powerful words spoken by Kamala Harris during her address: "THE ULTIMATE AMERICAN ART FORM". This statement reinforces hip-hop's profound influence on American culture and its role in shaping various aspects of the nation's popular culture.
A Cultural Statement: The shirt embodies Vice President Harris's recognition of hip-hop as an integral part of American identity. Her declaration that "hip-hop culture is American culture" resonates through this wearable tribute to a musical genre that has transcended borders and demographics.
In wearing the "Kamala Harris 50 Years Of Hip Hop Shirt," one not only celebrates the genre's rich history but also acknowledges its enduring legacy as an art form that continues to shape and reflect American culture. It's a garment that stands as a testament to the cultural impact of hip-hop and a memorable moment in American history.
Product Tags: 50 Years Of Hip Hop, Kamala Harris
See more related products: Misc
Have a look at the detailed information about Kamala Harris 50 Years Of Hip Hop Shirt The Ultimate American Art Form below!
Material
100% Cotton
Color
Printed With Different Colors
Size
Various Size (From S to 5XL)
Style
Hoodies, Tank Tops, Youth Tees, Long Sleeve Tees, Sweatshirts, Unisex V-necks, T-shirts, and more...
Brand
TokoPyramid
Imported
From the United States
Care Instructions

Machine wash warm, inside out, with like colors.
Use only non-chlorine bleach.
Tumble dry medium.
Do not iron.
Do not dry-clean.
Source: https://tokopyramid.com