Megadeth Band Shirt Thrash Heavy Metal
Introducing the Megadeth Band Shirt Thrash Heavy Metal: This Megadeth Logo shirt is a celebration of the legendary heavy metal band, Megadeth, and their iconic logo. The instantly recognizable design features a circular emblem intersected by diagonal lines with the band's name, "Megadeth", emblazoned across the top.
Megadeth's logo has become an enduring symbol in the world of heavy metal, instantly evoking the raw energy and power of the band's music. The combination of the circular motif and bold typography creates a visual impact that is both striking and timeless.
Wearing this Megadeth Band Shirt Thrash Heavy Metal is not just a fashion choice; it's a statement of your allegiance to the thrash and heavy metal genre and your admiration for Megadeth's enduring legacy. Whether you're at a concert, hanging out with fellow metalheads, or simply want to make a bold musical statement, this Megadeth Band Shirt Thrash Heavy Metal is the perfect way to do it. It's a tribute to a band that has left an indelible mark on the world of heavy metal. Rock on in style and proudly display your love for Megadeth and their music.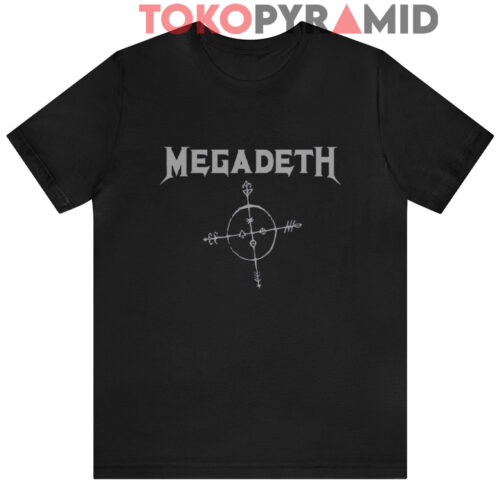 Megadeth Band Shirt , Iconic Band Logo, Megadeth Emblem, Heavy Metal Fashion, Rock Concert Attire, Megadeth Fan Apparel, Vintage Design, Thrash Metal Style, Metalhead Fashion, Music Memorabilia, Megadeth Logo Tee, Bold Typography, Music Icon Tribute, Rock and Roll T-Shirt, Iconic Metal Symbol, Heavy Metal Merchandise.
Product Tags: MEGADETH
See more related products: Megadeth
Have a look at the detailed information about Megadeth Band Shirt Thrash Heavy Metal below!
Material
100% Cotton
Color
Printed With Different Colors
Size
Various Size (From S to 5XL)
Style
Hoodies, Tank Tops, Youth Tees, Long Sleeve Tees, Sweatshirts, Unisex V-necks, T-shirts, and more...
Brand
TokoPyramid
Imported
From the United States
Care Instructions

Machine wash warm, inside out, with like colors.
Use only non-chlorine bleach.
Tumble dry medium.
Do not iron.
Do not dry-clean.
Source: https://tokopyramid.com