Metallica Black Album Historic Dates 2-sided Shirt
Introducing the 90s Metallica Black Album Historic Dates 2-sided Shirt – a homage to the legendary rock band's iconic Black Album era. The front of the shirt features a striking image showcasing the faces of Metallica's four members, topped by the iconic Metallica logo. On the reverse side, a symbol of a snake is emblazoned against the backdrop of tour dates from the historic 1991 journey. Above, the Metallica logo proudly accompanies the phrase "Historic Dates", while below, the pivotal year 1991 is highlighted.
This shirt encapsulates the essence of Metallica's influential Black Album period, merging powerful visuals with historic significance. The front design celebrates the band's collective presence, while the back pays tribute to the monumental 1991 tour. The inclusion of the Metallica logo throughout establishes a visual continuity, reinforcing the significance of this iconic era.
The 90s Metallica Black Album Historic Dates 2-sided Shirt is more than just a piece of fan merchandise; it's a wearable journey through time, allowing fans to relive the historic moments of Metallica's '90s legacy. Embrace the rock spirit and commemorate the Black Album era with this dual-sided masterpiece that echoes the band's enduring impact.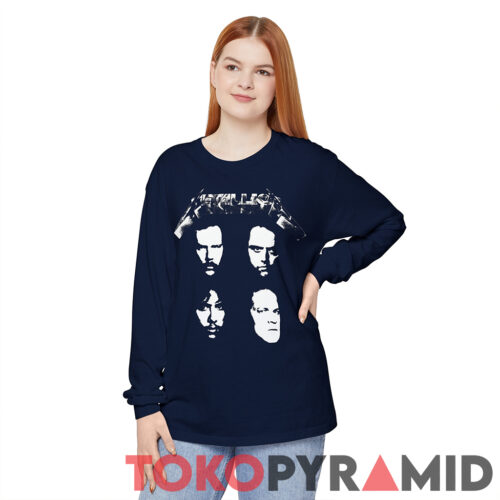 90s Metallica Black Album Historic Dates 2-sided Shirt, Metallica Vintage Black Album Tee, Historic Dates Metallica Shirt, 90s Rock Band Fashion, Black Album Era Merchandise, Metallica Iconic Album Apparel, Dual-Sided Metallica Tee, Vintage '91 Tour Dates Shirt, Metallica Snake Design Clothing, Band Members Faces Tee, Rock Music Fashion Statement, Metallica Logo Historic Dates Shirt, 1991 Metallica Tour Memorabilia, Black Album Nostalgia Wear, Metallica Tribute 2-sided Shirt, Rock Band Collectors' Edition Tee, 90s Music Iconic Fashion, Historic Metallica Tour Dates Shirt, Commemorative Black Album Legacy Wear.
Product Tags: Black Album, Historic Dates, Metallica
See more related products: Metallica
Have a look at the detailed information about Metallica Black Album Historic Dates 2-sided Shirt below!
Material
100% Cotton
Color
Printed With Different Colors
Size
Various Size (From S to 5XL)
Style
Hoodies, Tank Tops, Youth Tees, Long Sleeve Tees, Sweatshirts, Unisex V-necks, T-shirts, and more...
Brand
TokoPyramid
Imported
From the United States
Care Instructions

Machine wash warm, inside out, with like colors.
Use only non-chlorine bleach.
Tumble dry medium.
Do not iron.
Do not dry-clean.
Source: https://tokopyramid.com