Rare Vintage Nascar Mark Martin 6 Folgers T-shirt
The Nascar Mark Martin 6 Folgers T-shirt showcases the legacy of a true American racing legend. Mark Martin, a renowned NASCAR driver, has left an indelible mark on the sport's history. With numerous seasons under his belt, he's rightfully regarded as one of the greatest drivers in NASCAR's rich tapestry. The partnership between Mark Martin and Folgers, a well-known brand, further solidified his presence in the racing world.
This Nascar Mark Martin T-shirt features an image of Mark Martin's iconic number 6 race car, adorned with the vibrant colors and logo of his sponsor, Folgers. The words "Mark Martin" are prominently displayed against a backdrop of harmonious hues, beautifully encapsulating the spirit of competition and speed that Mark Martin embodies. The design is elegantly straightforward, focusing the spotlight on Mark Martin himself a design that resonates with fans of all ages, especially those who share a passion for both Mark Martin and the thrilling world of NASCAR.
Wearing this Nascar Vintage T-shirt not only pays homage to the remarkable career of Mark Martin but also serves as a symbol of the exhilarating world of racing that he dedicated his life to. It's more than just a piece of clothing; it's a statement of admiration for a true racing hero and a testament to the timeless allure of NASCAR.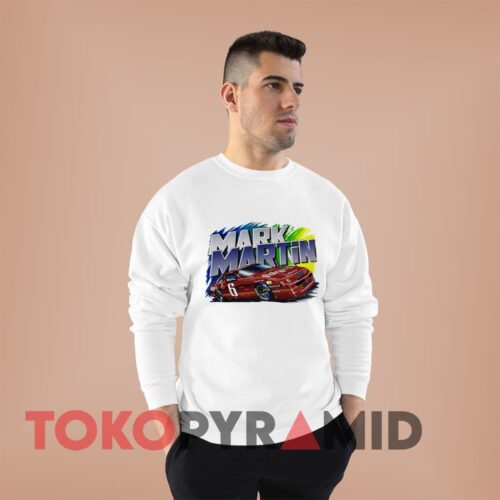 Product Tags: Folgers, Mark Martin, Nascar Mark Martin, Vintage Nascar
See more related products: NASCAR
Have a look at the detailed information about Rare Vintage Nascar Mark Martin 6 Folgers T-shirt below!
Material
100% Cotton
Color
Printed With Different Colors
Size
Various Size (From S to 5XL)
Style
Hoodies, Tank Tops, Youth Tees, Long Sleeve Tees, Sweatshirts, Unisex V-necks, T-shirts, and more...
Brand
TokoPyramid
Imported
From the United States
Care Instructions

Machine wash warm, inside out, with like colors.
Use only non-chlorine bleach.
Tumble dry medium.
Do not iron.
Do not dry-clean.
Source: https://tokopyramid.com