Vintage Nascar Mark Martin 6 Valvoline T-shirt
Introducing the Vintage Nascar Mark Martin 6 Valvoline T-shirt a tribute to the legendary American racing icon, Mark Martin, and his enduring partnership with Valvoline in the world of NASCAR. This Nascar Vintage T-shirt encapsulates the essence of Martin's illustrious career and his association with the iconic number 6 car.
The design on the Nascar Mark Martin T-shirt is a visual testament to the synergy between Mark Martin and Valvoline. The striking imagery of the iconic number 6 car dominates the forefront, adorned with vivid colors and an unmistakable Valvoline logo. The typography is a work of art in itself, with "Mark Martin" boldly emblazoned, where "Martin" exudes a sense of vibrancy, while "Mark" embodies a subtle elegance.
This Nascar Mark Martin Valvoline T-shirt is a perfect blend of power and speed, encapsulating the essence of what every racing enthusiast craves. It's more than just an article of clothing; it's a statement of passion, a piece of history, and a symbol of the unbreakable bond between a legendary driver and his steadfast sponsor. Whether you're a die-hard fan of Mark Martin or simply appreciate the adrenaline rush of NASCAR, this Nascar Valvoline T-shirt is a must-have addition to your collection. It's a piece of racing heritage that transcends time and embodies the heart-pounding excitement of the racetrack. Grab yours today and wear the legacy of Mark Martin and Valvoline with pride.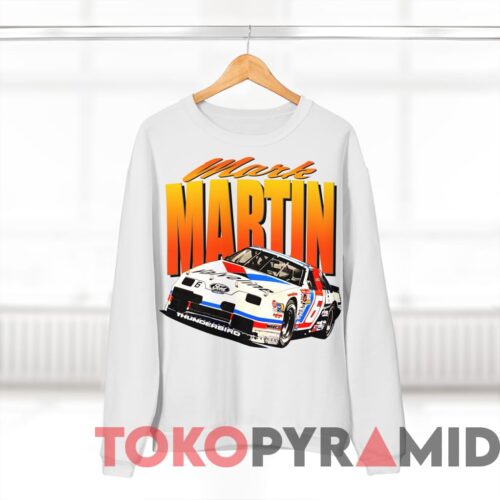 Product Tags: Mark Martin 6, Nascar, Nascar Mark Martin, Valvoline, Vintage Nascar
See more related products: NASCAR
Have a look at the detailed information about Vintage Nascar Mark Martin 6 Valvoline T-shirt below!
Material
100% Cotton
Color
Printed With Different Colors
Size
Various Size (From S to 5XL)
Style
Hoodies, Tank Tops, Youth Tees, Long Sleeve Tees, Sweatshirts, Unisex V-necks, T-shirts, and more...
Brand
TokoPyramid
Imported
From the United States
Care Instructions

Machine wash warm, inside out, with like colors.
Use only non-chlorine bleach.
Tumble dry medium.
Do not iron.
Do not dry-clean.
Source: https://tokopyramid.com