Never Forget Floppy Disk VHS Tape Cassette Shirt
Introducing the Never Forget Floppy Disk VHS Tape Cassette Shirt a nostalgic homage to the iconic storage and media devices of the past. This Never Forget VHS Cassette Tape Floppy Disk Shirt features a captivating design showcasing timeless relics such as the Floppy Disk, VHS Tape, and Cassette, each symbolizing an era when these technologies were at the forefront of data storage and media consumption.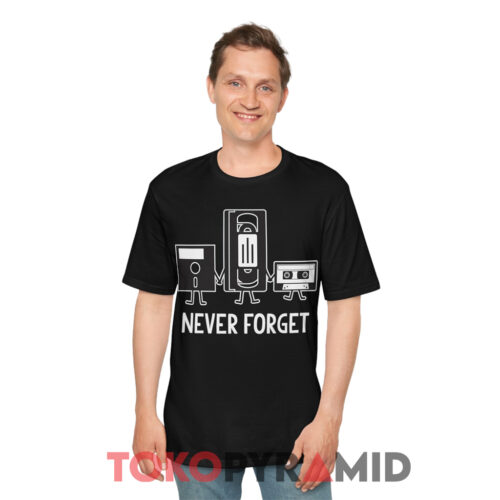 The carefully curated imagery serves as a visual journey into the history of information storage and communication, reminding us of a time when these devices played a pivotal role in our daily lives. The central message, boldly declared with the words "Never Forget", encourages us to reflect on the evolution of technology and appreciate the significance of these once-revolutionary innovations.
As we celebrate the charm of vintage tech, it's impossible to overlook the inevitable progression toward modern solutions like USB, CD/DVD, Blu-ray, streaming video, and online services. The design subtly acknowledges the natural cycle of technological advancements, where the old gives way to the new, paving the way for improved performance and convenience.
Wearing this Never Forget Cassette Tape VHS Gamer Old School Shirt isn't just a fashion statement; it's a wearable tribute to the technologies that paved the way for our current digital landscape. So, slip into this piece of nostalgia and let the "Never Forget" message resonate as a nod to the bygone era of data storage innovation.
Never Forget Floppy Disk VHS Tape Cassette Shirt, Never Forget Disk VHS Tape Shirt, Retro Tech Shirt, Never Forget Floppy Disk Shirt, Vintage Storage Devices Tee, Nostalgic Media Apparel, Never Forget Disk VHS Tape, Classic Data Storage Fashion, Never Forget Floppy Disk VHS Tape Cassette, Old School Tech Wear, Vintage Memory Lane Shirt, Retro Gadget Nostalgia, Floppy Disk VHS Tape Design, Never Forget VHS Tape Shirt, VHS Cassette Memory Tee.
Product Tags: Cassette, Floppy Disk, VHS Tape
See more related products: Misc
Have a look at the detailed information about Never Forget Floppy Disk VHS Tape Cassette Shirt below!
Material
100% Cotton
Color
Printed With Different Colors
Size
Various Size (From S to 5XL)
Style
Hoodies, Tank Tops, Youth Tees, Long Sleeve Tees, Sweatshirts, Unisex V-necks, T-shirts, and more...
Brand
TokoPyramid
Imported
From the United States
Care Instructions

Machine wash warm, inside out, with like colors.
Use only non-chlorine bleach.
Tumble dry medium.
Do not iron.
Do not dry-clean.
Source: https://tokopyramid.com