Friends Phoebe Buffay Performing Smelly Cat Shirt 2-sided
The Friends Phoebe Buffay Performing Smelly Cat Shirt 2-sided is a delightful homage to one of the most memorable and beloved moments from the hit TV show Friends. This shirt's front design captures the quirky and endearing character Phoebe Buffay strumming her guitar and performing "Smelly Cat" in front of the rest of the group. The words "Phoebe Buffay" grace the top of the image, while "Performing Smelly Cat" sits proudly below, encapsulating this iconic scene.
But the magic doesn't stop at the front. The back of the shirt features the lyrics to "Smelly Cat", Phoebe's hilariously offbeat and unforgettable song. This clever touch adds a layer of humor and nostalgia for fans who can instantly recall the tune's unique charm.
Wearing the Friends Phoebe Buffay Performing Smelly Cat Shirt is not just a fashion statement; it's a way to carry a piece of "Friends" history with you. It celebrates the enduring popularity of the show and the character of Phoebe, who was adored for her eccentricity and genuine spirit.
This shirt is a must-have for Friends enthusiasts, fans of Phoebe Buffay, and anyone who cherishes the humor and heart of the show. It's a wearable tribute to the unforgettable moments that Friends brought to our lives, including the timeless performance of Smelly Cat. Don't miss the chance to own the Performing Smelly Cat Shirt and reminisce about this classic TV moment.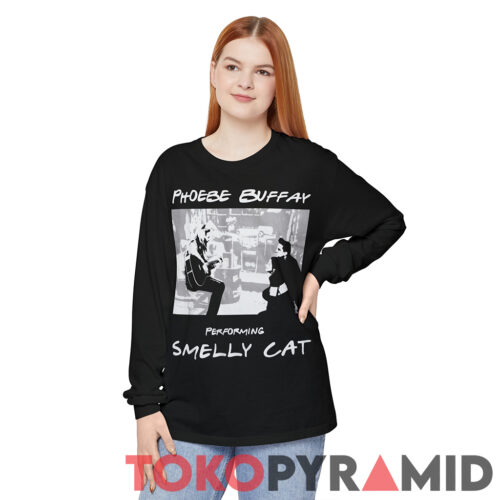 Product Tags: Friends, Friends Goals, Phoebe Buffay, Smelly Cat
See more related products: Friends
Have a look at the detailed information about Friends Phoebe Buffay Performing Smelly Cat Shirt 2-sided below!
Material
100% Cotton
Color
Printed With Different Colors
Size
Various Size (From S to 5XL)
Style
Hoodies, Tank Tops, Youth Tees, Long Sleeve Tees, Sweatshirts, Unisex V-necks, T-shirts, and more...
Brand
TokoPyramid
Imported
From the United States
Care Instructions

Machine wash warm, inside out, with like colors.
Use only non-chlorine bleach.
Tumble dry medium.
Do not iron.
Do not dry-clean.
Source: https://tokopyramid.com