Rare Vintage 1988 Iggy Pop Instinct Shirt
Introducing the "Rare Vintage 1988 Iggy Pop Instinct Shirt". This unique and collectible t-shirt pays homage to the legendary Iggy Pop and his iconic 1988 album, "Instinct". The shirt showcases the album's cover art, a visual representation of the raw energy and rebellious spirit that Iggy Pop is known for.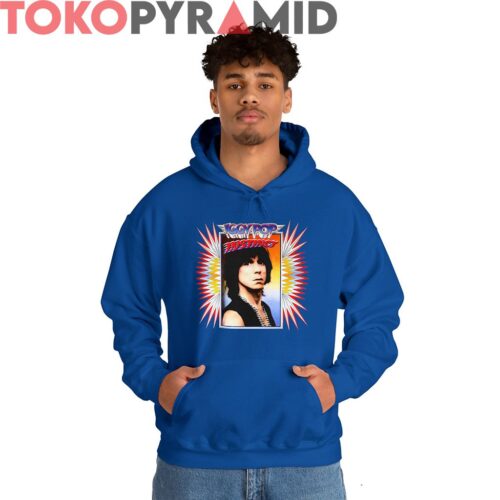 In the center of the shirt, you'll find a striking image of Iggy Pop himself, capturing the essence of his electrifying stage presence. The three-dimensional lettering above him spells out "IGGY POP INSTINCT", reminding you of the powerful music and unforgettable tracks that this album brought to life.
What sets this shirt apart is the intricate design surrounding Iggy Pop. On both sides, you'll notice a wave-like pattern with sharp, pointed edges, creating a sense of dynamism and movement. The use of various vibrant colors in this design reflects the eclectic and experimental nature of Iggy Pop's music.
The "Rare Vintage 1988 Iggy Pop Instinct Shirt" is not just a piece of clothing; it's a statement, a tribute to a musical icon. Whether you're a devoted fan of Iggy Pop or simply appreciate the artistry and innovation of his work, this shirt allows you to carry a piece of music history with you.
Wearing this shirt is a way to keep the spirit of "Instinct" alive, an album that pushed boundaries and challenged conventions, much like Iggy Pop himself. So, embrace the vintage vibes, show your love for Iggy Pop, and let the world know you're a fan of the unforgettable "1988 Iggy Pop Instinct" era with this extraordinary shirt. Don't miss the chance to own a unique piece of music memorabilia with the "Rare Vintage Iggy Pop Instinct Shirt".
#IggyPop #InstinctShirt #RareVintage, Vintage Iggy Pop Shirt, 1988 Iggy Pop, Instinct Shirt, Rare Vintage Music Shirt, Retro Rock T-Shirt, Iggy Pop Collectible, Vintage Band Tee, 1980s Music Memorabilia, Instinct Album Shirt, Iggy Pop Fan Merch.
Product Tags: Iggy Pop
See more related products: The Stooges
Have a look at the detailed information about Rare Vintage 1988 Iggy Pop Instinct Shirt below!
Material
100% Cotton
Color
Printed With Different Colors
Size
Various Size (From S to 5XL)
Style
Hoodies, Tank Tops, Youth Tees, Long Sleeve Tees, Sweatshirts, Unisex V-necks, T-shirts, and more...
Brand
TokoPyramid
Imported
From the United States
Care Instructions

Machine wash warm, inside out, with like colors.
Use only non-chlorine bleach.
Tumble dry medium.
Do not iron.
Do not dry-clean.
Source: https://tokopyramid.com