Boston Red Sox Logo Text Shirt
Introducing the Boston Red Sox Logo Text Shirt, a minimalist masterpiece that lets the iconic "Red Sox" speak volumes boldly and stylishly. This shirt is a testament to the power of simplicity, capturing the essence of the team's identity in a clean and eye-catching design.
The focal point of this shirt is the vivid red lettering of "Red Sox", elegantly outlined in white. The classic color combination pays homage to the team's rich history and creates a striking visual impact. The two words, meticulously crafted, stand out proudly, symbolizing the unity and strength of Red Sox Nation.
The Boston Red Sox Logo Text Shirt goes beyond mere apparel; it's a statement of allegiance to one of baseball's most revered franchises. Whether you're cheering from the stands or representing your team in everyday life, this shirt is the perfect choice. Embrace the timeless design and showcase your Red Sox pride with the Red Sox Logo Text Shirt, where the essence of the team is captured in every stitch.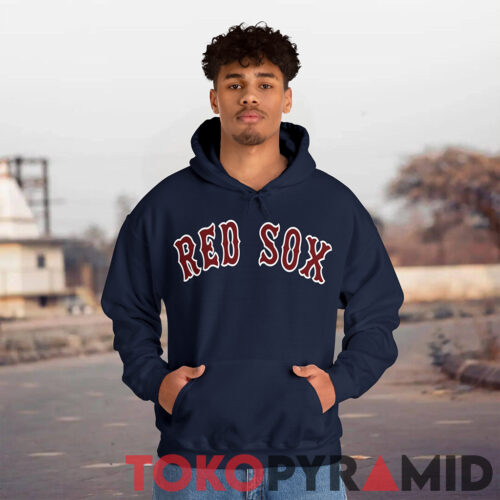 Red Sox logo, Logo Red Sox, Boston Text Shirt, Red Sox Lettering Tee, Classic Red Sox Shirt, Stylish Logo Text Apparel, Red Sox Minimalist Design, Logo-Centric Red Sox Top, Boston Pride Shirt, Red Sox Typography Tee, Iconic Red Sox Logo Fashion, Red Sox Nation Shirt, Clean Design Red Sox Apparel, Vintage Red Sox Logo Text, Modern Red Sox Fan Gear, Timeless Logo Red Sox Tee, Red Sox Identity Shirt, Minimalistic Red Sox Fashion.
Product Tags: Boston Red Sox
See more related products: Boston Red Sox
Have a look at the detailed information about Boston Red Sox Logo Text Shirt below!
Material
100% Cotton
Color
Printed With Different Colors
Size
Various Size (From S to 5XL)
Style
Hoodies, Tank Tops, Youth Tees, Long Sleeve Tees, Sweatshirts, Unisex V-necks, T-shirts, and more...
Brand
TokoPyramid
Imported
From the United States
Care Instructions

Machine wash warm, inside out, with like colors.
Use only non-chlorine bleach.
Tumble dry medium.
Do not iron.
Do not dry-clean.
Source: https://tokopyramid.com