Vintage Megadeth Rust In Peace 20th Anniversary Shirt
Introducing the Vintage Megadeth Rust In Peace 20th Anniversary Shirt: This extraordinary piece of apparel pays homage to one of the most iconic albums in the history of heavy metal, Megadeth's "Rust in Peace". Released in 1990, the album remains a testament to the band's remarkable musical prowess and its profound impact on the genre.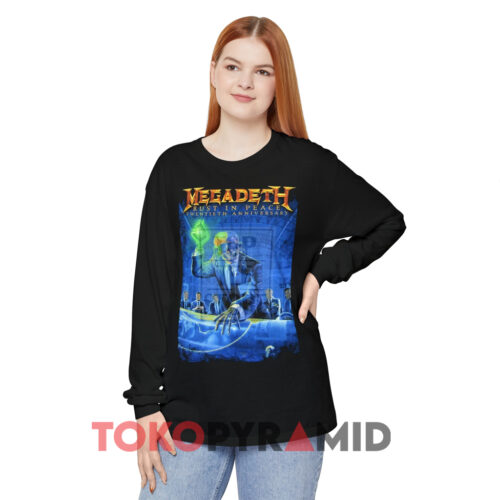 The Megadeth Rust In Peace Shirt showcases the album's striking cover art, a piece that has become synonymous with the power and artistry of Megadeth. "Rust in Peace" is celebrated for its technical virtuosity, featuring intricate guitar solos and profound lyrics. It includes memorable tracks like "Holy Wars… The Punishment Due," "Hangar 18," and "Tornado of Souls." This album has held its place in the annals of heavy metal, regarded as a masterpiece that pushed the boundaries of the genre.
The Rust In Peace 20th Anniversary shirt serves as a commemoration of the album's two-decade milestone, a testament to its enduring significance. It's a nod to both the band's incredible artistry and the enduring influence of their music. This vintage design captures the essence of the album, making it a must-have for Megadeth fans and collectors alike. Whether you're at a concert, a social gathering, or just want to relive the nostalgia, this Megadeth 20th Anniversary Shirt is the perfect choice to showcase your appreciation for Megadeth's monumental contribution to the world of heavy metal. Rock on in style and celebrate this classic piece of music history.
Megadeth, Rust In Peace, 20th Anniversary Shirt, Iconic Album Art, Vintage Design, Heavy Metal, Music Memorabilia, Thrash Metal Classic, Megadeth Fan, Band Merchandise, Collector's Item, Retro Apparel, Concert Attire, Music Nostalgia, Legendary Album, Band Legacy, Heavy Metal Fashion, Rust In Peace Celebration, Megadeth's History.
Product Tags: 20th Anniversary, MEGADETH, Rust In Peace
See more related products: Megadeth
Have a look at the detailed information about Vintage Megadeth Rust In Peace 20th Anniversary Shirt below!
Material
100% Cotton
Color
Printed With Different Colors
Size
Various Size (From S to 5XL)
Style
Hoodies, Tank Tops, Youth Tees, Long Sleeve Tees, Sweatshirts, Unisex V-necks, T-shirts, and more...
Brand
TokoPyramid
Imported
From the United States
Care Instructions

Machine wash warm, inside out, with like colors.
Use only non-chlorine bleach.
Tumble dry medium.
Do not iron.
Do not dry-clean.
Source: https://tokopyramid.com