Snoop Dogg Giving Up Smoke Shirt Quits Smoking Weed Shirt
Introducing the Snoop Dogg Giving Up Smoke Shirt Snoop Dogg Quits Smoking, Quitting Weed Shirt – a powerful statement and visual tribute to an iconic moment in the hip-hop legend's journey. The shirt features a compelling black-and-white image of Snoop Dogg, the West Coast rap icon, captured in a moment of prayer, signaling his decision to quit smoking. This iconic snapshot, paired with the bold announcement that he's giving up smoke, makes for a poignant and unique design.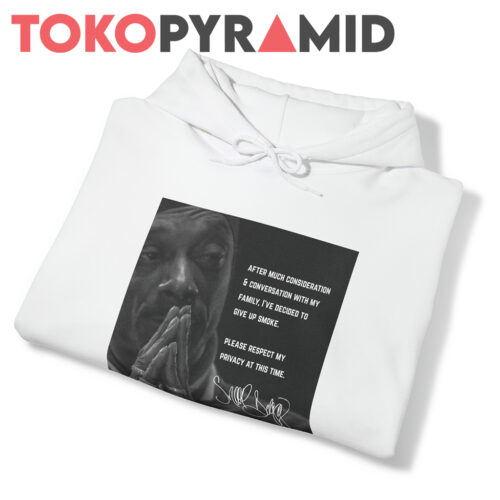 shirt is not just a piece of apparel; it's a representation of Snoop Dogg's commitment to change. The monochromatic aesthetic adds a touch of timelessness, emphasizing the gravity of this transformative decision. The juxtaposition of the prayerful pose with the declaration of quitting smoking creates a visually striking and emotionally charged design.
For fans and admirers of Snoop Dogg, the Giving Up Smoke Shirt is a way to celebrate his journey and express support for positive change. It's a statement piece that transcends fashion, embodying a moment of introspection and determination in one of the most influential figures in the music industry. Join Snoop Dogg in this powerful statement by donning the Giving Up Smoke Shirt – a symbol of resilience and personal growth.
Snoop Dogg Giving Up Smoke Shirt, Quitting Weed Tee, Snoop Dogg Quits Smoking Apparel, Iconic Snoop Dogg Moment Shirt, Snoop Dogg Transformation Merch, Black and White Snoop Dogg Shirt, Hip-Hop Legend Quitting Smoke Tee, Snoop Dogg Lifestyle Change Fashion, Snoop Dogg Prayer Pose Shirt, Snoop Dogg Inspirational Design, West Coast Rapper Quitting Smoking Tee, Snoop Dogg Positive Change Shirt, Celebrity Lifestyle Transformation Merch, Snoop Dogg Iconic Decision Apparel, Snoop Dogg Monochromatic Quitting Weed Shirt, Hip-Hop Culture Statement Tee, Snoop Dogg Personal Growth Fashion, Exclusive Snoop Dogg Collector's Edition Shirt.
Product Tags: Snoop Dogg, Snoop Dogg Quits Smoking
See more related products: Snoop Dogg
Have a look at the detailed information about Snoop Dogg Giving Up Smoke Shirt Quits Smoking Weed Shirt below!
Material
100% Cotton
Color
Printed With Different Colors
Size
Various Size (From S to 5XL)
Style
Hoodies, Tank Tops, Youth Tees, Long Sleeve Tees, Sweatshirts, Unisex V-necks, T-shirts, and more...
Brand
TokoPyramid
Imported
From the United States
Care Instructions

Machine wash warm, inside out, with like colors.
Use only non-chlorine bleach.
Tumble dry medium.
Do not iron.
Do not dry-clean.
Source: https://tokopyramid.com