Taylor Swift 1989 The World Tour T-Shirt
Introducing the Taylor Swift 1989 The World Tour T-shirt – a stylish nod to one of Taylor Swift's most iconic concert tours, the "1989 World Tour."
This Taylor Swift 1989 The World Tour T-shirt is a visual celebration of Taylor's remarkable "1989 World Tour," a time when she took the world by storm with her chart-topping album "1989." The design centers around the number 1989, which represents a pivotal year in Taylor's career. With its sleek and minimalist design, the tee captures the essence of that era, radiating a sense of nostalgia and pop culture nostalgia.
With a strong focus on design, this tee is more than just clothing; it's a wearable piece of Taylor Swift history. Whether you were in the crowd at one of her unforgettable tour stops or simply appreciate the design's aesthetic, this tee is a testament to Taylor's artistic impact.
The Taylor Swift 1989 The World Tour T-shirt is more than just an article of clothing; it's a symbol of a musical era that redefined pop. It's a tribute to the memories made during those electric tour performances and the continued influence of an artist who always pushes boundaries.
So, proudly wear this tee and relive the magic of Taylor Swift's "1989 World Tour." It's more than just a shirt; it's a wearable piece of music history and a reminder of Taylor's ever-evolving artistry.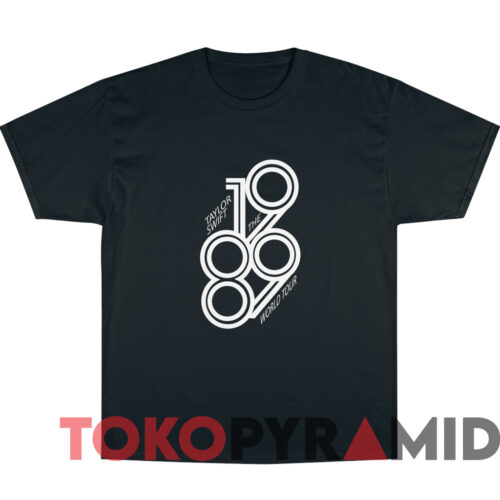 Have a look at the detailed information about Taylor Swift 1989 The World Tour T-Shirt below!
Material
100% Cotton
Color
Printed With Different Colors
Size
Various Size (From S to 5XL)
Style
Hoodies, Tank Tops, Youth Tees, Long Sleeve Tees, Sweatshirts, Unisex V-necks, T-shirts, and more...
Brand
TokoPyramid
Imported
From the United States
Care Instructions

Machine wash warm, inside out, with like colors.
Use only non-chlorine bleach.
Tumble dry medium.
Do not iron.
Do not dry-clean.
Source: https://tokopyramid.com