The Grinch Stink Stank Stunk Christmas Sweatshirt
Introducing "The Grinch Stink Stank Stunk Christmas Sweatshirt" – a whimsical and irreverent addition to your festive wardrobe that captures the essence of everyone's favorite holiday grouch, The Grinch. This sweatshirt showcases a captivating design featuring The Grinch himself, adorned with the cheeky and memorable slogan, "Stink Stank Stunk".
The mischievous charm of The Grinch comes to life through the intricate artwork and vibrant colors on this sweatshirt. The iconic green character is playfully depicted with his trademark scowl, exuding the perfect amount of grumpiness that we've all come to love during the holiday season. The clever use of the words "Stink Stank Stunk" adds a touch of humor and captures The Grinch's disdain for all things Christmas in a lighthearted and whimsical manner.
Whether you're attending a holiday party, participating in festive activities, or simply looking to add a dash of Grinch-inspired flair to your Christmas attire, this sweatshirt is the ultimate choice. It's more than just clothing; it's a festive statement piece that lets you embrace the Grinch's irreverent spirit and add a touch of mischievous charm to your holiday celebrations.
"The Grinch Stink Stank Stunk Christmas Sweatshirt" is the perfect wardrobe choice for those who appreciate the lighter side of the holiday season. With its unique design and playful slogan, this sweatshirt invites you to celebrate the Grinch's notorious antics and share a laugh with friends and family. Embrace the holiday cheer with a touch of grinchy humor, and let this sweatshirt be your go-to piece for spreading laughter and joy throughout the Christmas season. Stink, stank, stunk – The Grinch has never looked so festive!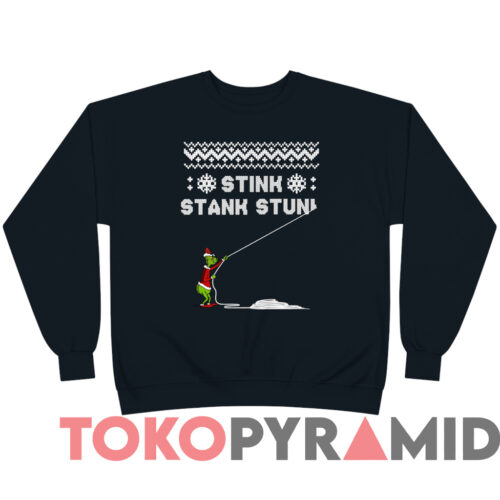 The Grinch Stink Stank Stunk Christmas Sweatshirt, festive Grinch apparel, irreverent holiday design, whimsical Christmas sweatshirt, iconic character clothing, Grinch-themed holiday wear, cheeky holiday slogan, playful Grinch graphics, holiday party outfit, Christmas season fashion, unique Christmas sweater, mischievous holiday charm, vibrant holiday colors, Christmas celebration attire, distinctive Grinch wear, humorous holiday statement
Product Tags: Dr.Seuss, Stink Stank Stunk, The Grinch
See more related products: Christmas, How the Grinch Stole Christmas
Have a look at the detailed information about The Grinch Stink Stank Stunk Christmas Sweatshirt below!
Material
100% Cotton
Color
Printed With Different Colors
Size
Various Size (From S to 5XL)
Style
Hoodies, Tank Tops, Youth Tees, Long Sleeve Tees, Sweatshirts, Unisex V-necks, T-shirts, and more...
Brand
TokoPyramid
Imported
From the United States
Care Instructions

Machine wash warm, inside out, with like colors.
Use only non-chlorine bleach.
Tumble dry medium.
Do not iron.
Do not dry-clean.
Source: https://tokopyramid.com