UC Berkeley Shirt Mathematics Est 1868
Introducing the Rare Vintage UC Berkeley Shirt Mathematics Est 1868, a true collector's item for those with a deep appreciation for both style and academic heritage. This exceptional shirt pays homage to the prestigious University of California, Berkeley, and its remarkable history in the field of mathematics.
At the heart of the design lies the iconic UC Berkeley logo, prominently displayed in the center. The university's initials, "UC", stand out in classic gold, flanked by the year "1868" in the same elegant gold hue, further emphasizing the institution's founding year. Just below, the word "BERKELEY" adds a touch of classic charm to the design.
However, what truly makes this shirt a standout piece for mathematics enthusiasts is the word "MATHEMATICS" displayed prominently at the bottom of the design. In a matching gold color, it underlines the university's profound contributions to the world of mathematics. This vintage shirt captures the essence of UC Berkeley's academic excellence and storied history in one eye-catching design.
Whether you're an alumnus, a student, a mathematics aficionado, or simply admire the rich legacy of UC Berkeley, this tee is the perfect addition to your collection. Wearing it not only showcases your style but also proudly honors the mathematical achievements of one of the world's most prestigious universities.
Choose the Rare Vintage UC Berkeley Shirt Mathematics Est 1868 to make a bold statement about your appreciation for the intersection of style and academic excellence.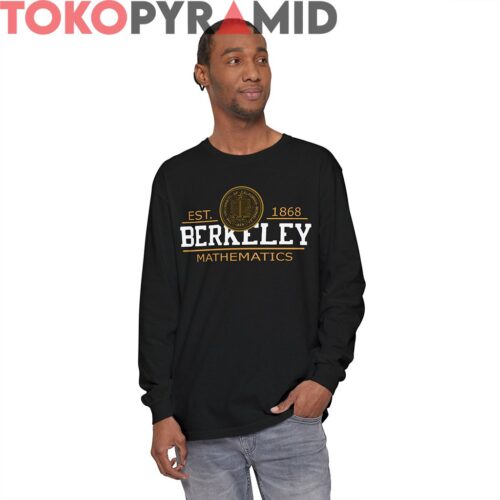 UC Berkeley 1868 Tee, Vintage UC Berkeley Shirt, UC Berkeley Est 1868 T-shirt, Mathematics UC Berkeley Sweatshirt, Retro UC Berkeley Tee, UC Berkeley 1868 T-shirt, Berkeley Math Est 1868 Shirt, Vintage Berkeley Mathematics Sweatshirt, UC Berkeley Established 1868 Tee, UC Berkeley Math Department T-shirt, Retro Berkeley Mathematics Sweatshirt, UC Berkeley Math Club Tee, Mathematics at UC Berkeley Shirt, UC Berkeley 1868 Vintage T-shirt, Classic UC Berkeley Math Sweatshirt.
Product Tags: UC Berkeley
See more related products: UC Berkeley
Have a look at the detailed information about UC Berkeley Shirt Mathematics Est 1868 below!
Material
100% Cotton
Color
Printed With Different Colors
Size
Various Size (From S to 5XL)
Style
Hoodies, Tank Tops, Youth Tees, Long Sleeve Tees, Sweatshirts, Unisex V-necks, T-shirts, and more...
Brand
TokoPyramid
Imported
From the United States
Care Instructions

Machine wash warm, inside out, with like colors.
Use only non-chlorine bleach.
Tumble dry medium.
Do not iron.
Do not dry-clean.
Source: https://tokopyramid.com