Vintage Grateful Dead 1984 Greek Theatre Rare Shirt
The Vintage Grateful Dead 1984 Greek Theatre Rare Shirt transports you to a time and place where the music of the Grateful Dead filled the air with a sense of magic and community.
On the front of the Grateful Dead 1984 Greek Theatre shirt, a majestic archway takes center stage. At its heart, a large and vibrant red rose blooms, symbolizing the passion and energy that the Grateful Dead infused into their performances. Inside the arch, a scene unfolds, featuring a serene lake, rolling hills, and a full moon casting its glow over the landscape. This idyllic imagery captures the essence of the Grateful Dead's music, which often invoked a sense of wanderlust and a connection to the natural world. Above the arch, the band's name is elegantly etched: "GRATEFUL DEAD GREEK THEATRE."
The back of the Grateful Dead 1984 Greek Theatre shirt is simpler in design but equally significant. It features just three lines of text. The first line, "GRATEFUL DEAD," reminds us of the iconic band at the heart of this shirt's story. Below that, "Greek Theatre" denotes the venue where this particular chapter of their musical journey unfolded. The final line provides the dates of the Grateful Dead's 1984 Greek Theatre tour: "July 13, 14 & 15, 1984." These dates are a testament to the enduring legacy of the Grateful Dead and the profound impact they had on their fans during this memorable series of concerts.
In essence, this Grateful Dead 1984 Greek Theatre shirt serves as a portal to the past, inviting you to relive the music, the atmosphere, and the sense of togetherness that defined the Grateful Dead experience. For fans of the band, it's a cherished memento of a time when music had the power to transport, transform, and unite.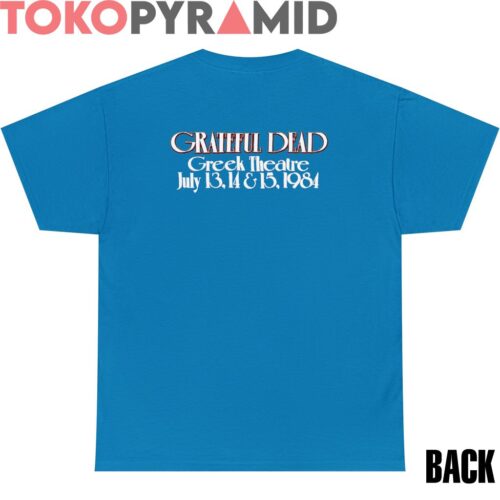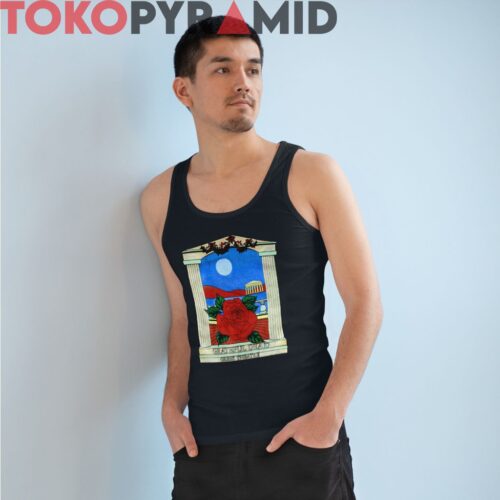 Product Tags: 1984, 80s vintage, Grateful Dead, Greek Theatre
See more related products: Grateful Dead
Have a look at the detailed information about Vintage Grateful Dead 1984 Greek Theatre Rare Shirt below!
Material
100% Cotton
Color
Printed With Different Colors
Size
Various Size (From S to 5XL)
Style
Hoodies, Tank Tops, Youth Tees, Long Sleeve Tees, Sweatshirts, Unisex V-necks, T-shirts, and more...
Brand
TokoPyramid
Imported
From the United States
Care Instructions

Machine wash warm, inside out, with like colors.
Use only non-chlorine bleach.
Tumble dry medium.
Do not iron.
Do not dry-clean.
Source: https://tokopyramid.com