Vintage Grateful Dead New Years 86-87 Rare Shirt
The "Vintage Grateful Dead New Years 86-87 Rare Shirt" encapsulates the spirit of a bygone era when the Grateful Dead were known for their legendary New Year's Eve concerts. This shirt is a vivid time capsule of the band's iconic celebrations.
New Year's Extravaganza: The centerpiece of the shirt is a circular frame adorned with the words "GRATEFUL DEAD NEW YEARS 86-87" and flanked by two vibrant roses. Within this frame, the design comes to life. A skeleton, donning a top hat and a garland of roses around its head, stands prominently. In one hand, it holds an hourglass, symbolizing the passage of time, while the other hand wields a scythe, a powerful emblem of mortality. This juxtaposition of life and death is a recurring theme in the Grateful Dead's imagery, reflecting their unique approach to music and existence.
A Dichotomy of Colors: The background within the circular frame is divided into two distinct halves. One side is a deep, rich red, while the other is a serene blue. The separation between the two is bridged by a single lightning bolt. This striking duality could symbolize the band's ability to navigate contrasting musical styles and emotions during their performances.
New Year's Legacy: The mention of "86-87" in the design is a direct reference to the specific New Year's Eve celebration this shirt commemorates. Grateful Dead New Year's shows were legendary for their marathon performances, elaborate setlists, and the unique sense of community they fostered among fans.
This vintage GRATEFUL DEAD NEW YEARS 86-87 shirt not only represents the Grateful Dead's music and artistry but also encapsulates the countercultural spirit and sense of adventure that defined the band's live performances. It's a testament to the lasting impact of the Grateful Dead and their ability to create memorable experiences for their devoted fan base, especially during the festive transition from one year to the next. The "Vintage Grateful Dead New Years 86-87 Rare Shirt" is not just clothing; it's a cherished relic of a musical era that continues to inspire.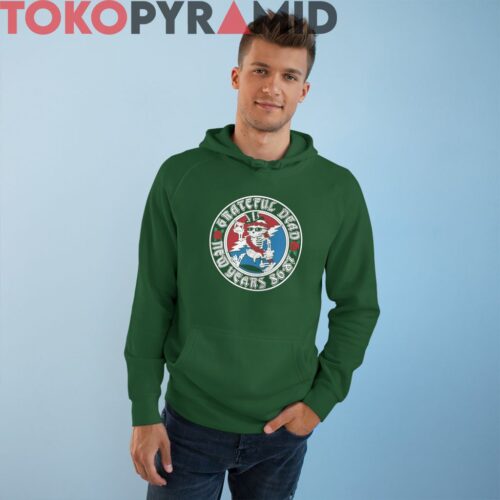 Product Tags: 80s vintage, Grateful Dead, New Years 86-87
See more related products: Grateful Dead
Have a look at the detailed information about Vintage Grateful Dead New Years 86-87 Rare Shirt below!
Material
100% Cotton
Color
Printed With Different Colors
Size
Various Size (From S to 5XL)
Style
Hoodies, Tank Tops, Youth Tees, Long Sleeve Tees, Sweatshirts, Unisex V-necks, T-shirts, and more...
Brand
TokoPyramid
Imported
From the United States
Care Instructions

Machine wash warm, inside out, with like colors.
Use only non-chlorine bleach.
Tumble dry medium.
Do not iron.
Do not dry-clean.
Source: https://tokopyramid.com