Rare Vintage Halloween Half Skull Pumpkin Shirt
The Rare Vintage Halloween Half Skull Pumpkin Shirt, a unique and striking piece of apparel that seamlessly combines the spooky spirit of Halloween with a touch of the macabre. This shirt features a captivating design that will surely turn heads at any Halloween party or event.
The centerpiece of this Half Skull Pumpkin shirt is the cleverly crafted imagery. On one side, you'll find a hauntingly detailed half-skull, adorned with an eerie gray complexion and piercing blue eyes that seem to emit an otherworldly glow. This skull gives a nod to classic Halloween themes and is sure to send shivers down your spine.
On the other side, we have a grinning Halloween pumpkin, complete with its trademark orange hue and a devilish smile carved into its surface. This half of the design represents the cheerful and playful side of Halloween, which is often characterized by pumpkin carving and fun festivities.
Below these captivating visuals, the word "HALLOWEEN" is boldly displayed in vibrant orange, mirroring the color of the pumpkin and enhancing the overall theme. This word not only announces the Halloween spirit of the shirt but also integrates seamlessly with the design.
The Rare Vintage Halloween Half Skull Pumpkin Shirt is the perfect choice for those who embrace the duality of Halloween – the eerie and the enchanting, the spooky and the spirited. It's a visually stunning piece that captures the essence of the season and adds a touch of dark elegance to your Halloween wardrobe. Make a bold statement and stand out during this holiday with this unique and eye-catching shirt.
Get ready to celebrate Halloween like never before with the Half Skull Pumpkin Shirt – an exceptional addition to your collection of spooky attire. Don't miss the chance to embrace the chilling charm and vibrant spirit of Halloween in style. Get yours today and be the talk of the town at your next Halloween gathering.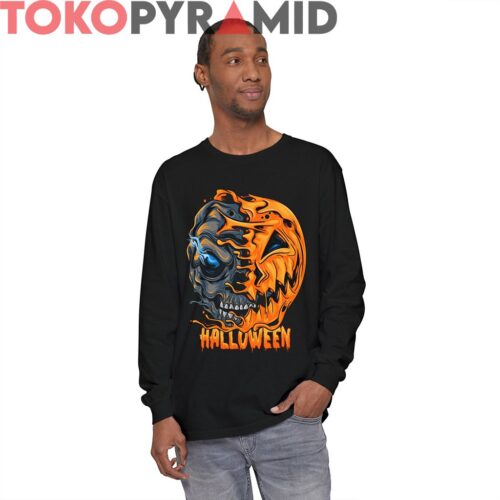 Halloween Half Skull Half Pumpkin Shirt, Rare Vintage Halloween Shirt, Pumpkin Half Skull Design, Halloween Theme Shirt, Unique Halloween Apparel, Spooky and Playful Shirt, Halloween Party Outfit, Eerie and Enchanting, Dark Elegance, Halloween Wardrobe, Chilling Charm, Vibrant Spirit, Eye-Catching Design, Haunting Imagery, Spooky Halloween Shirt, Playful Pumpkin, Macabre Halloween Shirt.
Product Tags: Halloween
See more related products: Halloween
Have a look at the detailed information about Rare Vintage Halloween Half Skull Pumpkin Shirt below!
Material
100% Cotton
Color
Printed With Different Colors
Size
Various Size (From S to 5XL)
Style
Hoodies, Tank Tops, Youth Tees, Long Sleeve Tees, Sweatshirts, Unisex V-necks, T-shirts, and more...
Brand
TokoPyramid
Imported
From the United States
Care Instructions

Machine wash warm, inside out, with like colors.
Use only non-chlorine bleach.
Tumble dry medium.
Do not iron.
Do not dry-clean.
Source: https://tokopyramid.com