Vintage Megadeth Hangar 18 Shirt
Introducing the Vintage Megadeth Hangar 18 Shirt a piece of apparel that encapsulates the intriguing world of science fiction and UFO mysteries, inspired by Megadeth's iconic song "Hangar 18".
This Megadeth Hangar Shirt features a captivating design that delves into the realm of extraterrestrial fascination. The imagery on it draws inspiration from the song's theme, which touches on the mysterious and clandestine nature of Hangar 18, a place often associated with government secrets and UFO conspiracy theories.
The design on the 1991 Megadeth Hangar 18 Shirt vividly depicts a sci-fi landscape, complete with unidentified flying objects and otherworldly elements. It's a nod to the song's lyrical content, which explores the notion of hidden knowledge and government cover-ups related to possible encounters with beings from beyond our world.
For fans of Megadeth and those intrigued by the enigmatic world of science fiction and UFO lore, this shirt serves as a visual tribute to the band's creative storytelling and the enduring fascination with unexplained phenomena. It's more than just clothing; it's a piece of wearable art that invites you to explore the mysteries of "Hangar 18" in style.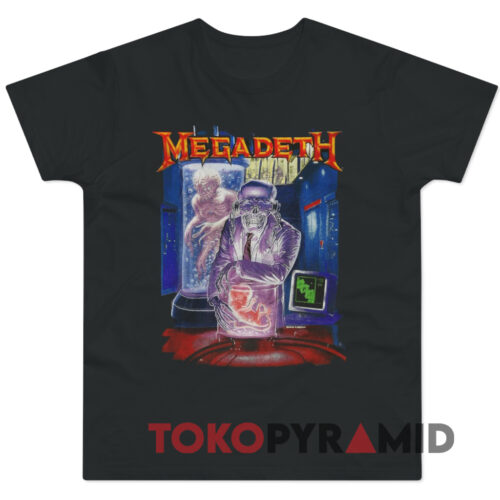 Megadeth Hangar 18 Shirt, UFO-inspired design, Science fiction apparel, Vintage band merchandise, Megadeth song tribute, Extraterrestrial mysteries, Iconic rock band, Alien encounters, UFO conspiracy, Secret government facility, Enigmatic artwork, Music-inspired fashion, Retro band shirt, Metal music culture, Collectible memorabilia, Artistic expression, Unexplained phenomena, Rock and UFOs.
Product Tags: Hangar 18, MEGADETH
See more related products: Megadeth
Have a look at the detailed information about Vintage Megadeth Hangar 18 Shirt below!
Material
100% Cotton
Color
Printed With Different Colors
Size
Various Size (From S to 5XL)
Style
Hoodies, Tank Tops, Youth Tees, Long Sleeve Tees, Sweatshirts, Unisex V-necks, T-shirts, and more...
Brand
TokoPyramid
Imported
From the United States
Care Instructions

Machine wash warm, inside out, with like colors.
Use only non-chlorine bleach.
Tumble dry medium.
Do not iron.
Do not dry-clean.
Source: https://tokopyramid.com