Vintage Taylor Swift Fearless Tour Tee
Introducing the Vintage Taylor Swift Fearless Tour Tee – a nostalgic and iconic piece that encapsulates the magic of Taylor Swift's unforgettable "Fearless Concert Tour."
Step back in time with this exceptional tee and relive the enchantment of Taylor Swift's early career. The design is a visual ode to the spirited and heartwarming performances that defined the "Fearless Concert Tour." Each element and color palette captures the essence of Taylor's youthful charisma and undeniable talent, bringing to life the enchantment of her concerts.
This Vintage Taylor Swift Fearless Tour Tee is more than just clothing; it's a wearable memory. It offers you a chance to experience or revisit the excitement and melodies that marked a pivotal moment in Taylor Swift's journey to global superstardom. Whether you were part of the audience during those remarkable concerts or you're discovering the magic for the first time, this tee is a tangible piece of music history.
The Vintage Taylor Swift Fearless Tour Tee pays homage to the enduring connection between artist and fan. It's a tribute to the passionate performances and the heartfelt songs that resonated with audiences around the world.
So, proudly wear this tee and carry with you a piece of Taylor Swift's legacy. It's not just an article of clothing; it's a symbol of the timeless bond between Taylor and her fans and a testament to the remarkable journey of an artist who fearlessly pursued her dreams.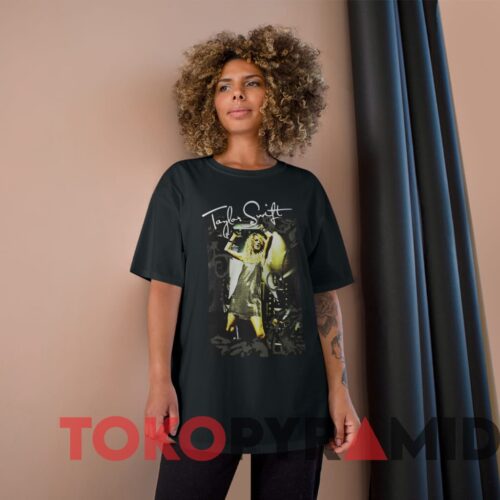 Product Tags: Fearless Tour, Taylor Swift
See more related products: Taylor Swift
Have a look at the detailed information about Vintage Taylor Swift Fearless Tour Tee below!
Material
100% Cotton
Color
Printed With Different Colors
Size
Various Size (From S to 5XL)
Style
Hoodies, Tank Tops, Youth Tees, Long Sleeve Tees, Sweatshirts, Unisex V-necks, T-shirts, and more...
Brand
TokoPyramid
Imported
From the United States
Care Instructions

Machine wash warm, inside out, with like colors.
Use only non-chlorine bleach.
Tumble dry medium.
Do not iron.
Do not dry-clean.
Source: https://tokopyramid.com