Yin Yang Death and Angel
This Yin Yang Death and Angel t-shirt is really something special. It's got a picture on it – a circle with a line down the middle like day and night holding hands. Inside that circle, there are two parts that are totally different but fit together like a puzzle.
On one side of the circle, it's darker, like when the sun goes away and the stars come out. In this dark part, there's a picture of death. He's like a quiet shadow, carrying a big curved knife called a scythe. It looks like he's ready to do his job, taking souls away.
But on the other side of the circle, things are bright and cheerful. It's like when the sun is up and everything feels warm. In this sunny part, there's a picture of a beautiful goddess. She's full of life and grace, making the world seem full of possibilities.
This Yin Yang Death and Angel t-shirt is all about showing how life and death are connected, just like two friends who need each other. It's like a reminder that everything has its time, and even in sad moments, there's still a touch of something beautiful.
Grab this unique Yin Yang Death and Angel t-shirt now to showcase the harmony between life and death, a profound message elegantly portrayed through the intricate imagery on this product!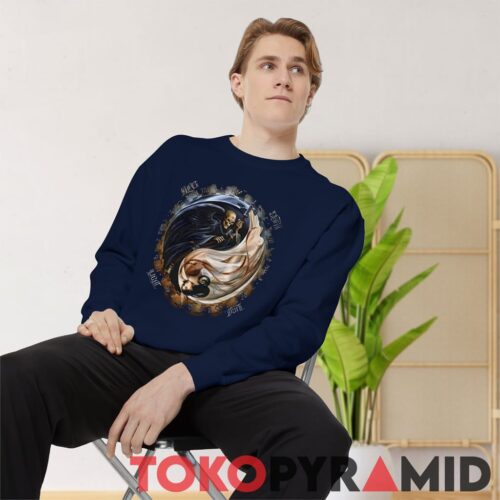 Product Tags: Angel, Death, Misc, Yin Yang
See more related products: Misc
Have a look at the detailed information about Yin Yang Death and Angel below!
Material
100% Cotton
Color
Printed With Different Colors
Size
Various Size (From S to 5XL)
Style
Hoodies, Tank Tops, Youth Tees, Long Sleeve Tees, Sweatshirts, Unisex V-necks, T-shirts, and more...
Brand
TokoPyramid
Imported
From the United States
Care Instructions

Machine wash warm, inside out, with like colors.
Use only non-chlorine bleach.
Tumble dry medium.
Do not iron.
Do not dry-clean.
Source: https://tokopyramid.com