80s Vintage Grateful Dead Classic Logo Foreign Rare Shirt
The 80s Vintage Grateful Dead Classic Logo Foreign Rare Shirt is a testament to the enduring and iconic imagery associated with the Grateful Dead. At its heart is the band's timeless classic logo, a circular frame that encapsulates a unique blend of elements.
In the center of the logo, you'll find the distinctive Grateful Dead skeleton, with its head adorned with a vibrant red rose. This skeleton, often referred to as "Bertha" or "Skull and Roses," has become synonymous with the band and its music. It represents the fusion of life and death, beauty and mortality – themes that frequently appear in the Grateful Dead's lyrics and artwork.
Surrounding this captivating centerpiece is the bold inscription "GRATEFUL DEAD," enveloping the skeleton and accentuating its significance. Two delicate red roses flank the skeleton on either side, adding a touch of natural beauty to the design. The background is a soothing shade of green, while the text and border are in contrasting white and green hues, creating a harmonious visual balance.
What makes this Grateful Dead Classic Logo shirt unique is the reference to "Foreign" in the design. This suggests that it may be a version of the classic logo shirt that was created or distributed for international audiences. The Grateful Dead had a devoted global fan base, and their music transcended borders, making it fitting to have a shirt that acknowledges their international reach.
In conclusion, the 80s Vintage Grateful Dead Classic Logo Foreign Rare Shirt is a tribute to the enduring appeal of the Grateful Dead's music and imagery. Its design incorporates the band's iconic logo and elements that have become synonymous with their identity. Whether you're a die-hard Deadhead or someone who appreciates timeless rock and roll artistry, this shirt is a nod to the cultural and musical legacy of the Grateful Dead. Vintage Grateful Dead Classic Logo – a symbol of music that knows no boundaries.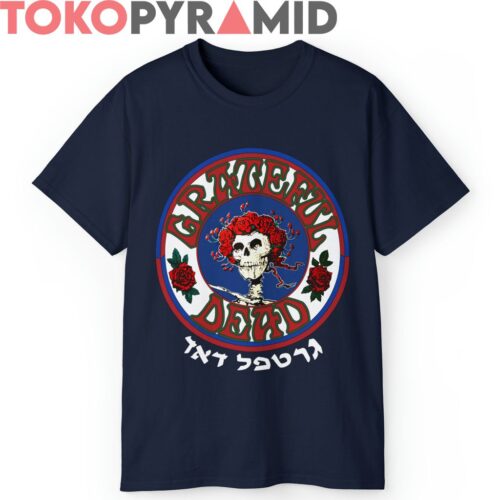 Product Tags: 80s vintage, Grateful Dead, Grateful Dead Logo
See more related products: Grateful Dead
Have a look at the detailed information about 80s Vintage Grateful Dead Classic Logo Foreign Rare Shirt below!
Material
100% Cotton
Color
Printed With Different Colors
Size
Various Size (From S to 5XL)
Style
Hoodies, Tank Tops, Youth Tees, Long Sleeve Tees, Sweatshirts, Unisex V-necks, T-shirts, and more...
Brand
TokoPyramid
Imported
From the United States
Care Instructions

Machine wash warm, inside out, with like colors.
Use only non-chlorine bleach.
Tumble dry medium.
Do not iron.
Do not dry-clean.
Source: https://tokopyramid.com