Megadeth Countdown To Extinction 1993 Shirt Double Sided
Introducing the Vintage Megadeth Countdown To Extinction 1993 Shirt Double Sided: This extraordinary garment is a true collector's item for any Megadeth fan, showcasing a design that encapsulates the essence of the band's iconic "Countdown to Extinction" era. Let's delve into the captivating design: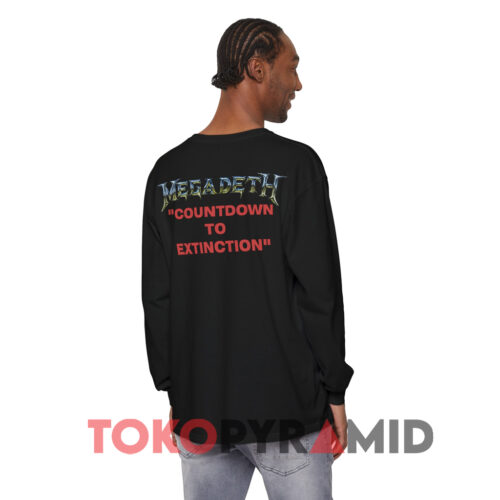 The front of the Countdown To Extinction Tour Shirt features a mesmerizing and intense design. At its core is a demonic figure, positioned within a pentagram. This striking imagery is surrounded by fiery flames, creating a dramatic and otherworldly scene. The use of vivid colors enhances the visual impact, and the devilish figure adds an element of intrigue. It perfectly embodies the album's dark and thought-provoking themes, making a bold statement.
On the back of the Megadeth Tour 1993 Shirt, the words "Countdown To Extinction" and "Megadeth" take center stage. The typography is bold, eye-catching, and exudes a sense of power. This typographic design is emblematic of the album's title and the band's name, ensuring that everyone around you knows your passion for Megadeth.
Wearing this double-sided vintage Megadeth shirt is a powerful way to immerse yourself in the "Countdown to Extinction" era and represent the band's iconic album. It's a conversation starter and a statement piece that speaks volumes about your appreciation for Megadeth's music and their unique aesthetic. Whether you're at a concert, with fellow metalheads, or simply looking to stand out, this Vintage Megadeth Countdown To Extinction 1993 Shirt allows you to wear your love for Megadeth with pride. It's more than just clothing; it's a work of art and a testament to the band's enduring legacy. Rock on in style and embrace the captivating essence of Megadeth's music.
Megadeth, Countdown To Extinction, 1993, Dave Mustaine, Thrash Metal, Heavy Metal, Music, Album, Band, Countdown To Extinction Tour, Rock, Metallica, Grammy, Youthanasia, Vic Rattlehead, Tornado of Souls, Symphony of Destruction, Rust in Peace, Classic, Thrash, Music History, Countdown To Extinction Album, Iconic Album, Metal Legends, Grammy Nomination, Music Industry, Metal Music, Headbangers, Megadeth Discography, Thrash Metal Band
Product Tags: Countdown To Extinction, MEGADETH
See more related products: Megadeth
Have a look at the detailed information about Megadeth Countdown To Extinction 1993 Shirt Double Sided below!
Material
100% Cotton
Color
Printed With Different Colors
Size
Various Size (From S to 5XL)
Style
Hoodies, Tank Tops, Youth Tees, Long Sleeve Tees, Sweatshirts, Unisex V-necks, T-shirts, and more...
Brand
TokoPyramid
Imported
From the United States
Care Instructions

Machine wash warm, inside out, with like colors.
Use only non-chlorine bleach.
Tumble dry medium.
Do not iron.
Do not dry-clean.
Source: https://tokopyramid.com