Rare Vintage 1993 Mcdonalds Halloween Shirt Trick Or Treat
The "Rare Vintage 1993 McDonalds Halloween Shirt Trick Or Treat" is a delightful nod to the Halloween season with a playful twist. This vintage shirt features a unique design that merges the world of McDonald's with the spookiness of Halloween, creating a fun and collectible piece.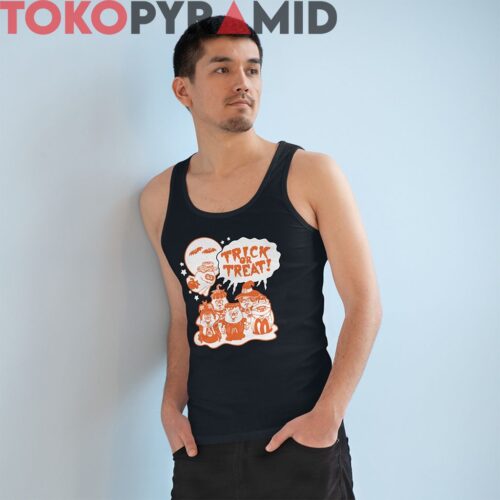 Halloween-Inspired Cosplay: The Mcdonalds Halloween shirt showcases various McDonald's mascots dressed up in Halloween costumes. You can spot characters like Ronald McDonald, Grimace, the Hamburglar, and others in amusing Halloween attire. It's a whimsical take on these beloved characters embracing the Halloween spirit.
McDonald's Logo: Prominently displayed on the shirt is the McDonald's logo. The juxtaposition of the well-recognized golden arches within a Halloween-themed design creates a unique visual contrast.
Halloween Icons: The Mcdonalds Halloween shirt pays homage to classic Halloween symbols, including a white-sheet ghost, a crescent moon, and a bat. These elements help establish the spooky Halloween ambiance and create an engaging visual story.
"Trick or Treat" Dialogue: Positioned above the characters are the words "TRICK OR TREAT". This iconic Halloween phrase further reinforces the Halloween theme of the shirt and sets the stage for a playful, candy-seeking adventure.
Vibrant Orange and White Color Scheme: The shirt primarily features a color scheme of vibrant orange and white, which are classic Halloween colors. The orange background adds to the festive and spirited feel of the design.
Nostalgic Collectible: For fans of vintage clothing and McDonald's memorabilia, this shirt is a valuable collector's item. It perfectly encapsulates the essence of the early '90s, a time when such promotional items were popular and widely embraced.
Halloween Fashion: This Halloween shirt is an excellent choice for Halloween enthusiasts, especially those who appreciate the playful side of the holiday. It's ideal for wearing during the Halloween season, whether you're trick-or-treating, attending a Halloween party, or simply embracing the spirit of the holiday.
In conclusion, the "Rare Vintage 1993 McDonald's Halloween Shirt Trick Or Treat" is a delightful blend of Halloween whimsy and iconic McDonald's charm. Its clever design features beloved mascots in Halloween costumes, making it a must-have for vintage clothing and Halloween enthusiasts. Whether you're a collector, a nostalgic fashion lover, or someone who simply loves Halloween, this shirt brings joy and a playful spirit to the season. It's a fun and stylish way to celebrate the spooky holiday while indulging in a bit of nostalgia.
Product Tags: Halloween, McDonald's
See more related products: Halloween
Have a look at the detailed information about Rare Vintage 1993 Mcdonalds Halloween Shirt Trick Or Treat below!
Material
100% Cotton
Color
Printed With Different Colors
Size
Various Size (From S to 5XL)
Style
Hoodies, Tank Tops, Youth Tees, Long Sleeve Tees, Sweatshirts, Unisex V-necks, T-shirts, and more...
Brand
TokoPyramid
Imported
From the United States
Care Instructions

Machine wash warm, inside out, with like colors.
Use only non-chlorine bleach.
Tumble dry medium.
Do not iron.
Do not dry-clean.
Source: https://tokopyramid.com